Remote work has become an increasingly popular option, so much so that it's actually increased by a whopping 173% since 2005, according to Global Workplace Analytics. With more and more companies offering flexible work options, you need to make sure you have the best home office computer for your work needs.
There are a number of great HP computers suited for this very purpose, from powerful laptops to streamlined workstations. In this article, we'll cover the 5 best desktop and laptop computers for working from home from HP® so you can conquer your to-do list from outside the confines of the office.
Work-from-home computer requirements
Before diving into our list of the best HP computers for home use, it's important to consider the specs for a business PC optimized for working for home. That's particularly true for anyone working in more resource-intensive jobs.
For example, if you're a graphic designer or an engineer, you'll need more RAM than the typical user. If you're a photojournalist or in video production, you'll want more storage.
As a baseline for any worker, consider the following your minimum requirements:
Processor: The CPU carries out and controls the instruction for your computer. You want one that is powerful enough to run the programs you need for your job without breaking your budget. A CAD designer, for example, needs a top-of-the-line CPU. For most professionals, an Intel Core™ i5-9500 processor is a great starting option.

Memory: RAM is where the computer stores short term instructions. You need enough to run several programs like email and Word without overloading your memory. Make sure your computer has at least 8GB of RAM. Most workstations offer upgrades, so if you can get 16GB for just a few dollars more, it may be worth the up front investment.

Storage: For faster load times, go for a 250GB solid-state drive (SSD). And if you need more local storage, opt for a 1TB HDD. Read about the differences between SSD and HDD in our HP Tech Takes article so you know which is your best pick.

Portability: If you're considering a laptop, battery life is a key feature. At a minimum, look for options with at least 6 hours of battery life. This lets you plow through projects at a coffee shop or give a presentation without scrambling for an electrical outlet. You can read about some of HP's longer life battery options here. Keep in mind, too, that battery life tends to shorten over the life of your device, but laptop batteries are often replaceable.

Security: This is a must for any industry and should include multi-factor authentication to keep out other users, a webcam with privacy settings for video conference calls, antivirus software, and an all-encompassing security solution such as HP Pro Security.
5 best work computers for home use
There are a variety of desktops and laptops you should consider for this purpose, whether you are working from home on a part-time or temporary basis, or your position is fully and permanently remote. With that in mind, here are the best work-from-home computers from HP®.
1. HP EliteOne 800 All-in-One PC: Speedy, sleek all-in-one design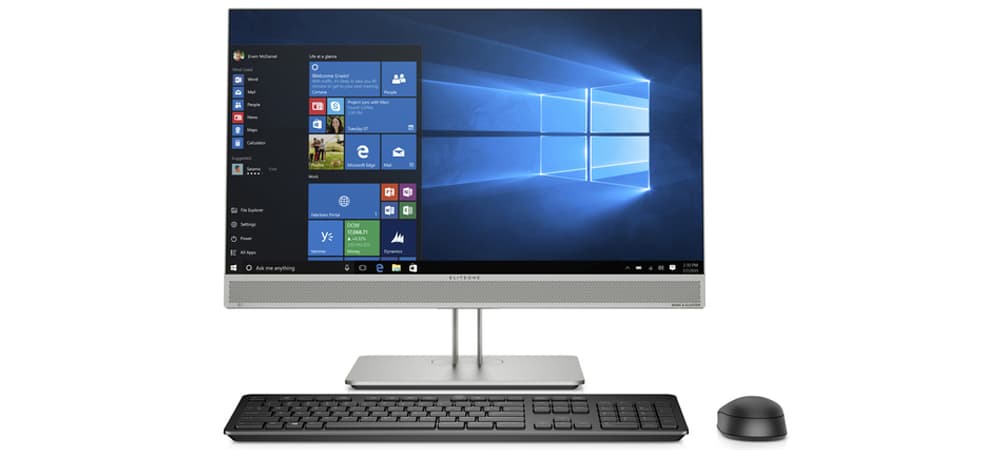 If your work-from-home area has limited space or you just dig plug-and-play PCs, the HP EliteOne 800 All-in-One is a great choice. This computer is incredibly sleek, with all of its components packed into the 23.8-inch diagonal display.
It's also easy to set up and start using within minutes, partially because it comes loaded with Windows 10 Pro that includes features such as Remote Desktop. That means you can remotely connect to another PC; like the one in your company's office.
The HP EliteOne 800 is completely customizable as well. You can add 16GB of Intel® Optane™ memory to your loadout, shift from the Intel Core™ i5-9500 processor to an Intel Core i9-9900 processor, and include an additional SSD for up to 2TB.
If you need one of the best PCs for home use that works right out of the box and has a breathtaking Full High Definition (FHD) micro-edge bezel display, the HP EliteOne 800 All-in-One certainly fits the bill.
Additional features:
128GB M.2 PCIe NVMe TLC SSD

Fixed 2 MP FHD low-light webcam

Ultraslim DVD-writer

SD media card reader

ENERGY STAR® qualified configuration

Intel UHD Graphics 630
2. HP EliteBook x360 830 G6 laptop: Durable and secure workhorse PC
Depending on your profession, you may prefer a laptop to a desktop PC. Whether you value portability or flexibility, there are many reasons to consider a laptop as your work-from-home computer. And if a laptop is more your speed, the HP EliteBook x360 830 G6 is a fantastic pick for remote work.
For instance, this HP EliteBook boasts several different work modes. Simply use the 360-degree rotating hinge to put it into laptop mode, tablet mode, and several in between to suit your use. This makes it a flexible option both for working at home and winding down in the evening.
The HP EliteBook's screen is very easy on the eyes, too, and is perfectly sized. The 13.3-inch display is FHD and has IPS touch screen capabilities with 1000-nits brightness. Its size is ideal because you can use it docked at your desk with a full-sized external monitor, sit on the back porch in the sun with it propped on your lap (where those 1000 nits mean no squinting), or you can carry it around to different spots from the kids' soccer game to the pool to the coffee shop without worrying that it'll weigh you down (it starts at just 2.97 lbs).
Beyond its great screen and portability, the HP EliteBook x360 830 also has WiFi 6 certification. This means that it uses less battery power when connected to a wireless network and improves the speed of its connection over networks with numerous connected devices. This is a killer feature for anyone who works at home while the kids are gaming, schooling, or streaming Netflix, works in crowded coffee shops, or works in coworking spaces. Even better, the integrated HP Sure View feature allows you to protect sensitive information visible on your display by making it difficult for onlookers to view active windows from either side.
Additional features:
Optional integrated fingerprint sensor

HD camera and HD IR webcam

Bang & Olufsen, dual stereo speakers, 3 multi-array microphone

Wacom AES 2.0 pen with an app launch button

ENERGY STAR qualified configuration

Integrated Intel UHD Graphics 620
3. HP ProDesk 600 G5 desktop computer: Business-ready performance
The HP ProDesk 600 G5 is a comprehensive line of business PCs that come in several models, including a mini, small form factor, and microtower. Each will easily fit into just about any home office, and you can easily transport them from one setting to another, since they are small and light.
Each of the HP ProDesk 600 G5 models is integrated with several key HP security features as well. When it comes to security, these are some of the best computers for home use, as each one includes HP Client Security for encrypting hard drives, HP BIOS Protection, HP Recovery Manager for data loss prevention and system backups, and HP Password Manager to store passwords and restrict certain applications.
The HP ProDesk 600 models are also very customizable. You can upgrade yours with up to 128GB of DDR4-2666 DIMM RAM, 1TB M.2 PCIe NVMe TLC SSD, and an AMD Radeon™ RX 550X 128-bit graphics card. This makes it perhaps the most flexible series of computers on this list. Just keep in mind you will need to purchase a monitor to use yours since, unlike a laptop or an All-on-One, the display is not included.
Additional features:
Intel Q370 chipset

Optional 16GB Intel Optane memory

1 slim ODD

RAID 1 configuration

ENERGY STAR qualified configuration

Intel i219LM gigabit network connection
4. HP ProBook 600 notebook PC series: Enterprise-grade reliability
Do you work from home as part of an enterprise business? If so, the HP ProBook 600 notebook PC series is for you. This home office computer is specifically designed for reliability and comes with enterprise-grade security features that make it one the most secure machines from HP®.
It also comes in 14-inch and 15.6-inch models - the HP ProBook 640 G5 and the HP ProBook 650 G5 - so you can choose the right screen for your line of work. Both options come bundled with Windows 10 Pro, which is ideal for enterprises that need their employees to access their work desktops remotely at home.
The HP ProBook 600 notebooks are aesthetically pleasing, too. They have an eye-popping silver chassis and an ergonomic spill-resistant keyboard with multi-touch gesture support, which is great for typing out long emails or Slack messages.
And if you work on graphics-intensive projects, this computer also has discrete graphics options, including the AMD Radeon™ RX540. As an added bonus, the WiFi 6 certification guarantees you'll maintain internet speeds when using this device over a shared connection.
Additional features:
2 USB 3.1 Gen 1 (1 charging) ports; 1 USB 3.1 Type-C™ Gen 1 port

Intel Optane 16GB PCIe NVMe 3D XPoint™ SSD

Integrated HD 720p webcam

3-cell 48 WHr long life battery

ENERGY STAR qualified configuration

1 microSD card slot
5. HP Z2 mini workstation PC: Powerful and versatile workstation
If you're looking for a ratio of size to power that is virtually unparalleled, then look no further than the HP Z2 mini workstation. Given its tiny dimensions, this PC can fit into virtually any home office setting or you can bring it back and forth from a traditional office as needed.
It may be small, but the HP Z2 packs a powerful punch with a 9th Generation Intel Core processor that you can upgrade up to an i7-9700 processor. It also has a wide variety of storage options. The standard 500GB 7200 RPM SATA 2.5-inch HDD can be upgraded to 2TB, and you can even add on an additional SSD of up to 2TB.
The HP Z2 includes a DisplayPort as well, so you can use just about any monitor you want. This makes it one of the best HP computers for home use, for anyone who works remotely but occasionally needs to give presentations on larger screens. To further add to its connectivity potential, you can add on optional adapters, such as a USB-C to HDMI adapter or a USB-C to VGA adapter.
Additional features:
Integrated Intel UHD Graphics 630

135 W External 3-pin Power Supply

Upgradable 4GB DDR4-2666 SODIMM RAM

Windows 10 Pro

ENERGY STAR qualified configuration

USB business slim wired keyboard included
Best work from home computer setup
In addition to your new computer, you'll need the right peripherals to successfully work outside of the office. While a mouse and keyboard are a must - we recommend the HP X3000 wireless mouse and the HP USB slim business keyboard - there are other pieces to the WFH puzzle to consider.
You may want to invest in an ergonomic desk chair, noise-canceling headphones, a premium desk, and an all-in-one device such as the HP OfficeJet Pro All-in-One printer. All of these can be integrated into your workflow to make you as productive as possible.
Several of the home office computers on our list require a separate monitor, but you may also want a larger display if you're using a laptop as your computer of choice. If that is the case, we recommend our HP EliteDisplay E243 23.8-inch monitor for an optimal viewing experience during work hours.
Interested in really beefing up your work-from-home setup? Check out our list of the 10 best tools for working remotely from home.
Conclusion
When it comes to choosing the best desktop computer for working from home, you'll need to consider a variety of factors, including the type of work you do and if you plan on fully remote work or flexibly with some office hours.
The HP Z2 mini workstation is a great versatile option for this, and the HP EliteBook x360 830 is also ideal for those craving the most portability with a laptop alternative. Regardless of which PC you pick from our list, you'll be fully prepared to take on just about any task the day brings.
Related content you might enjoy: