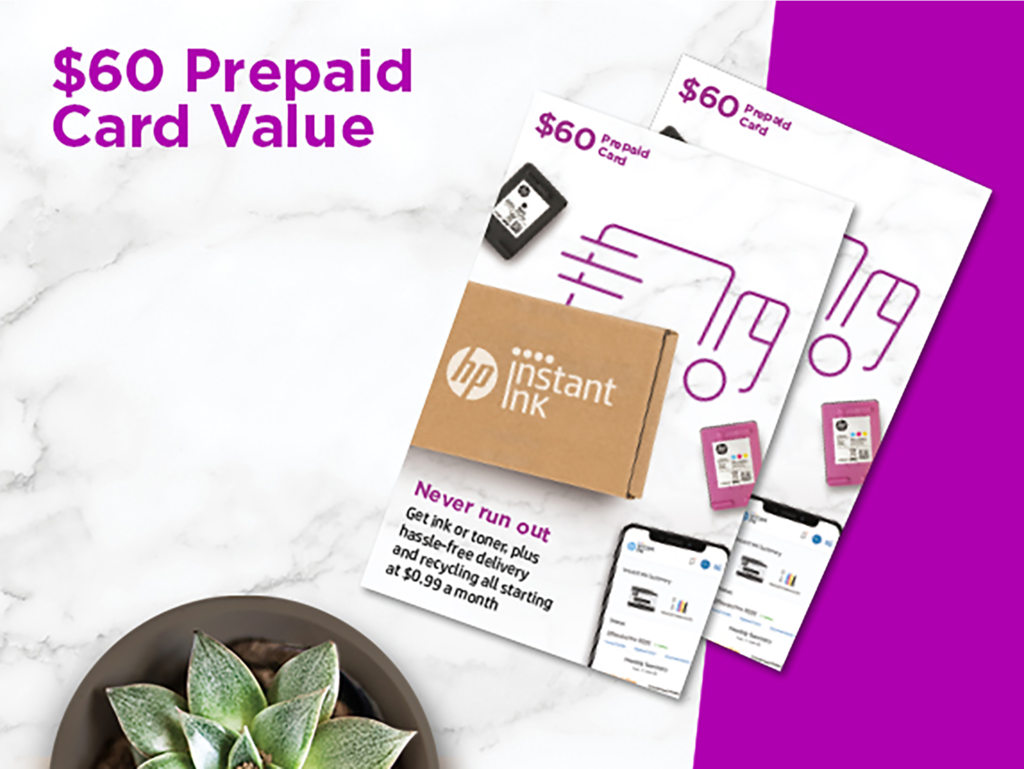 HP Instant Ink Prepaid Card ($60)
Never run out and save up to 50% on ink or toner [1,2]
Never run out with Instant Ink- get ink or toner, plus hassle-free delivery and recycling all starting at $0.99 a month. Peace of mind with plan flexibility to change, pause, or cancel at anytime at no cost. [3] Help us put plastic back into printers with prepaid recycling service included.
Pick your plan during sign-up.
Choose the plan that's right for you. Change or cancel your plan at anytime. No annual fee, contract, or commitment. Ink Plans: 15 pages for $0.99 a month; 50 pages for $2.99 a month; 100 pages for $4.99 a month; 300 pages for $11.99 a month; 700 pages for $24.99 a month. Toner plans: 50 pages for $1.99 a month; 100 pages for $3.99 a month; 400 pages for $13.99 a month; 800 pages for $19.99 a month, 1500 pages for $25.99 a month You can rollover unused pages to the next month, or if needed buy additional sets of pages for just $1.[4]
Get Ink only when you need it.[2]
By keeping your printer connected to the internet it tells us when to send more Original HP Ink before you run out, and only when you need it. Rollover up to 3x the number of pages in your ink plan; Rollover up to 2x the number of pages in your toner plan