SoundLink Micro Portable Bluetooth Speaker System - Black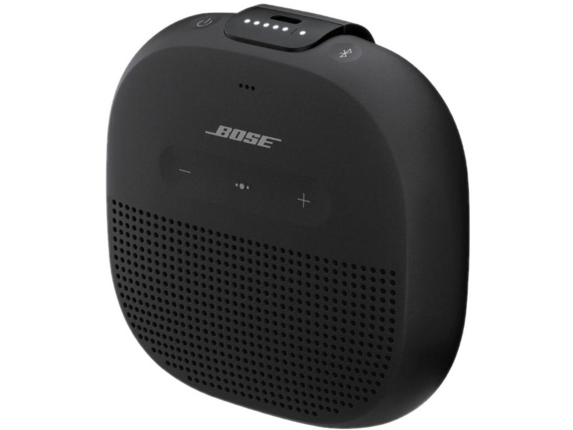 Save 5% on Phillips Hue when purchasing $50 of HP Monitors or Accessories
Learn more
1AQ179
SoundLink Micro Portable Bluetooth Speaker System - Black
specifications
SoundLink Micro Portable Bluetooth Speaker System - Black - Battery Rechargeable
Battery Rechargeable
TINY. UNTIL YOU TURN IT ON.

It doesn't really matter what you're doing-hiking, biking, cooking dinner or hanging out. You need music. We designed a speaker that keeps pace with all of your adventures and delivers unmatched sound for its size. The SoundLink Micro speaker is small, but powerful. Super rugged and waterproof. It features a tear-resistant silicone strap-so you can take it along wherever you go. Because, when a speaker this small sounds this good, you'll never want to leave it behind.

We put more in. You get more out.
Every detail of SoundLink Micro-from the custom-designed transducer to the silicone passive radiators-is meant to reproduce sound that's better than any speaker of its size. You can't make a speaker perform like this one if you don't engineer it that way from the start.

All the places you'll go
Wherever you're headed, SoundLink Micro is designed to tag along. Strap it to your bike, your backpack, your cooler. The tear-resistant strap is super reliable, so you know it'll hold just as tight whether it's the first time or the thousandth.

STANDS UP TO WATER FROM THE INSIDE OUT
When it comes to waterproofing, we wanted to make a speaker that not only performs the first time you get it wet-but every time you get it wet. We used an IPX7 rating as a benchmark, then took it further. We rigorously tested our speaker for all kinds of situations. We built this one to survive a fall in the pool. Or in the ocean. There's no need to panic if you drop it. Just pull it out and hit play.

Materials matter
Accidents happen. But that doesn't mean you should be left with a broken speaker when they do. That's why we chose silicone rubber for SoundLink Micro's exterior. This high quality material allowed us to eliminate as many seams and gaps as possible (and it holds up to dents, scratches and cracks). It's portable performance-for all the place Passive Radiator,Rugged Design,USB Charging Port