HP Neverstop Laser MFP 1200w Printer
Configuration
A4 Black and White Laser Multifunction Printer, Perfect for Home
Print, Copy and Scan
Print speed up to 21 ppm (black)
USB, Wi-Fi
(See more Specifications)
Upgrade your experience with an HP care pack
Includes 1 year onsite warranty
Choose Your Option

1 year onsite warranty

Included
High-volume laser printing at an ultra low cost, with easy mobile printing and MFP versatility. | CPP@29 paise per page | 15 sec self reload | 5000 pages inbox
Drivers, Manuals & Support
HP Neverstop Laser 1200w
The World's First Toner Tank1 Easy reload. Efficient. All-in-one. Wireless.
High volume printing up to 5000 pages
HP Smart App Easy mobile printing
5000 pages of toner right out of the box2
Get up to 5000 pages before your first reload with toner engineered for high-volume printing.
Fast print speed
Get A4-size black prints for up to 20 pages per minute.3
Pause only to reload
High-capacity toner designed to minimize interruptions and downtime.
Print, scan and copy
Versatile multifunction printer to help you breeze through tasks.
Original HP quality. Unbelievable savings.
Count on getting consistently superb prints for an ultra low cost.
Print quality up to
600 x 600 x 2 dpi
Get sharp text and bold black when you print documents and more.
Save up to
80% on HP toner5
The lowest toner cost compared to HP toner cartridges.
Freedom to work from anywhere.
Print without a router with Wi-Fi Direct7
Print from Dropbox and Google Drive, or folders on your smartphone.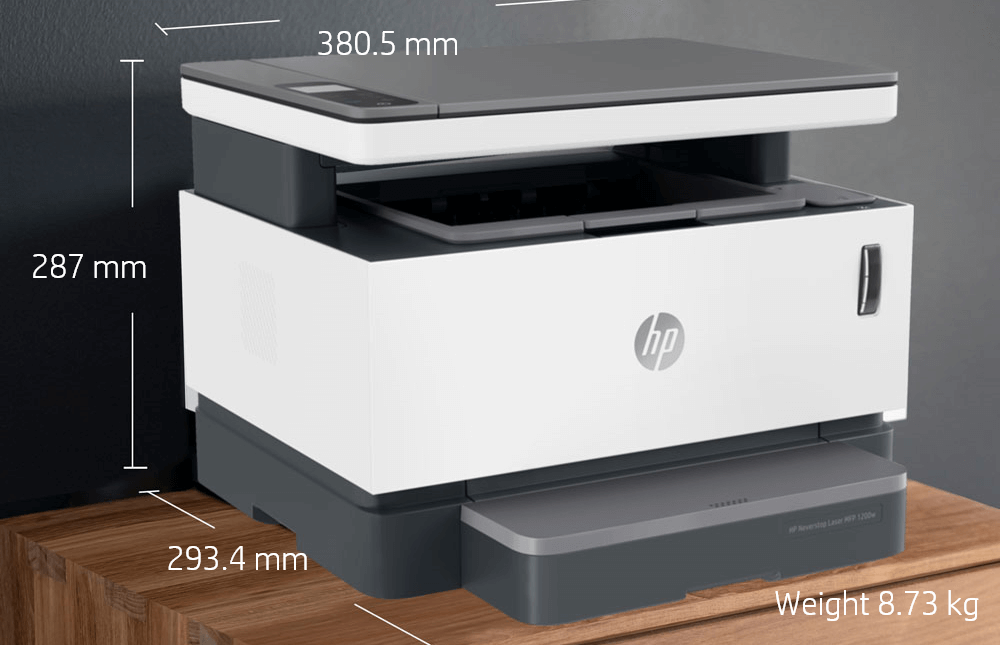 15-seconds, mess-free, self reload toner4
Easily reload toner levels with the world's first cartridge-free laser printer.
The groundbreaking design of the toner reload kit helps you get back to printing in seconds.
Shake it
Shake to loosen the toner
Plunge it
Twist to lock it in place.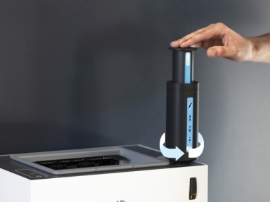 Print it
Push to load, then twist to unlock and ready to print.
HP Laser Toner Cartridges and Kits
HP 103A Black Original Neverstop Laser Toner Reload Kit
(Yield ~2500 pages)
HP 103AD Dual pack Black Original Neverstop Laser Toner Reload Kit
(Yield ~2x2500 pages)
HP 104A Black Original Laser Imaging Drum
(includes ~5000 pages of inbox toner, useful life of ~20000 pages)
Features
Up to 80% savings on toner[1]
Count on toner savings right out of the box.[1] Get up to 80% savings on toner every time you reload.[1]
Thousands of pages right out of the box
Get 5000 pages of toner right out of the box[2] – up to 7x more pages than in-class HP lasers.[6]
Freedom to work anywhere
Print, scan, and copy virtually anywhere, and receive notifications on your phone, with HP Smart app.[4]
Simple, mess-free reload[3]
Get a mess-free experience,[3] and easily restore toner levels with the toner reload kit.[7]
Extend your printing reach
Get print speeds up to 20 ppm.
No network, no problem
Connect your smartphone or tablet directly to your printer – and easily print without accessing a network.[9]
Automate scanning tasks and save time
Eliminate steps in repetitive tasks with customizable shortcuts, using Smart Tasks in HP Smart app.[4]
Uncompromising laser quality
Produce sharp text and bold blacks for high-quality, black-and-white documents.
Ecolabel certified
HP Neverstop with Original HP Toner Reload Kit meets ecolabel requirements, including ENERGY STAR 3.0 and BLUE ANGEL.
Tackle the essentials – print, scan, copy
Breeze through tasks with versatile MFP performance – print, scan, and copy.
Fast printing
Quickly and easily restore toner levels with the toner reload kit.
Simple, intuitive control panel
Start printing right away. The intuitive control panel helps you complete projects quickly and easily.
Functions
Print, copy, scan
Duplex printing
Manual (driver support provided)
Recommended monthly page volume
250 to 2500
Up to ₹1,000.00* cashback on select banks
₹1,000.00 cashback after 90 days of purchase on all CISS Smart Tank Printers.
₹500.00 cashback after 90 days of purchase on select HP Printers
Cashback offers are available on Yes Bank CC, AU Bank CC, BOB Bank, Federal Bank, IDFC Bank
Applicable on Pinelabs 6/0 No-cost EMI and 9/0, 12/0 Low-cost EMI transactions.
FREE WORKSHEETS (2000+) www.printlearncenter.com/offer
This Offer is ONLY valid for end customer purchase made beginning May 20th 2022 through offline and online channels.
•This Offer is Valid only on all Home Printing Solutions SKUs - C8727AA, CB335ZZ, 3JA77AA, 3JA78AA, 3JA79AA, 3JA80AA, 3JA81AA, 3JA82AA, 3JA83AA, 3JA84AA, 3JA85AA, 3YM15AA, 3YM16AA, 3YM17AA, 3YM18AA, 3YM19AA, 3YM20AA, 3YM21AA, 3YM22AA, 3YM23AA, 3YM70AA, 3YM71AA, 3YM72AA, 3YM73AA, 3YM76AA, 3YM77AA, 3YP93AA, 3YP94AA, 6ZD21AA, 6ZD61AA, C2P04AA, C2P05AA, C2P06AA, C2P07AA, C2P19AA, C2P20AA, C2P21AA, C2P22AA, C2P24AA, C2P25AA, C2P26AA, C8765ZZ, C8766ZZ, C9351AA, C9364ZZ, CB335ZZ, CB337ZZ, CC653AA, CC656AA, CD887AA, CD888AA, CD971AA, CD972AA, CD973AA, CD974AA, CH561ZZ, CH562ZZ, CH563ZZ, CH564ZZ, CN054AA, CN055AA, CN056AA, CN057AA, CN692AA, CN693AA, CR312AA, CZ637AA, CZ638AA, F6V20AA, F6V23AA, F6V26AA, F6V27AA, F6V32AA, F6V33AA, L0R42AA, L0S21AA, L0S51AA, L0S54AA, L0S57AA, L0S60AA, X4E78AA, X4E79AA, 1VV21AA, M0H54AA, M0H55AA, M0H56AA, C2P23AA, CZ107AA, CZ108AA, T6L89AA, T6L93AA, T6L97AA, CN049AA, J3M71A, X4D20AC, J3M68A, J3M69A, J3M70A, X4D11AC, X4D14AC, X4D17AC, D8J10A, T6M21AA, L0S09AA, CB317ZZ, CB318ZZ, CB319ZZ, CB320ZZ, CN622AA, CN623AA, CN624AA, L0R13A, L0R14A, L0R15A, L0R17YC, L0R18YC, L0R19YC, L0R12A, M0K31XC, L0R88AA, L0R91AA, L0R94AA, L0S00AA, L0S03AA, L0S06AA, T0B23A, T0B24A, T0B25A, M0J92AA, M0J96AA, M0K00AA, M0J76AA, M0J80AA, M0J84AA, L0S20YC, CZ122AA, CZ123AA, CZ124AA, CN621AA, L0R05A, L0R06A, L0R07A, L0S29YC, L0S30YC, L0S31YC, L0R16A, L0R20YC, M0K04AA, L0R08A, T0B30A, M0J88AA, M0K08XC, M0K12XC, M0K27XC, CN626AA, CN627AA, CN628AA, T0B27A, T0B28A, T0B29A, L0R09A, L0R10A, L0R11A, CN625AA, L0R97AA, D8J07A, D8J08A, D8J09A, L0S23AA, L0S24AA, CN046AA, CN047AA, CN048AA, T0B26A, CZ121AA, T6M01AA, CC630AA, CC654AA, X4E75AA, CC640ZZ, C9352AA, C6615DA, C6656AA, CD975AA, T6M05AA, T6M09AA, T6M13AA, C6657AA, CN053AA, CB316ZZ, CN045AA, 3JB06AA, 51645AA, L0S72AA, T6M17AA, L0S63AA, L0S66AA, L0S69AA, CC643ZZ, M0H50AA, M0H51AA, 3YP17AA
• The Customer can activate the HP Print Learn Center subscription anytime by following the steps detailed – Scan the QR code or Visit the www.printlearncenter.com/Offer and enter your details and printer serial id in the coupon code column.
• The Offer is valid in India only.
• Please ensure that you enter correct serial number of your printer while doing registration in this Offer. The serial number of the Printer entered by you will be used to check validity of the Offer.
• HP Printers covered under this Offer are also available without this Offer.
• All customer queries regarding this Offer can be directed to contact@printlearncenter.com
• Please make sure that email id being provided at the time of registration on Offer page, should be correct and belongs to the customer only, as all Offer related communication shall be sent on this registered email ID only.
• View the full list of terms and conditions
here.
.
Reviews
Rated

5

out of

5
by
Sameen
from
Great features
amazing performance. I really like the built quality of this printer..
Date published: 2021-09-12
Rated

5

out of

5
by
Anonymous
from
Print
After 5k pages print cartiage toner changes or refill ink
Date published: 2021-02-15
Rated

5

out of

5
by
Prashant S
from
HP Neverstop Laser MFP 1200w
I am very happy with my new, beautiful, first laser printer. My HP Neverstop MFP 1200w. This printer allows you to print wirelessly, setup is seamless, and you can also look at the videos on the HP channel on Youtube. HP people followed up multiple times as I could not install due to personal engagements. Printers prints well, it will rid you off the hassle of going to NP for refills. Refill toner costs only around INR 800 for 2500 pages. I LOVE IT.
Date published: 2021-02-08
Rated

5

out of

5
by
DavidD
from
Excellent green technology
HP has done a great job in making a refillable tank laser printer available to the general population. Great product that will eliminate the spent cartridges ending up in garbage heaps. Compact printer with plenty of features - perfect for home office use.
Date published: 2021-02-01
Rated

5

out of

5
by
Keval
from
When perfection meets Aesthetics!
Just when you open the product, you get a sense of perfection. It was beautiful packed in a way that no parts get damaged during the transport. It was very easy to set up. I just installed the HP Smart App on my Macbook and turned the printer on. It hardly took 15-20 seconds to complete the setup and it was ready to print. I even connected it to my mobile and it was easier to print from there too. The quality of print was top notch. This is exactly what I needed. I even experimented with the scanner by setting it to the best quality and the results were amazing too. Go for it!
Date published: 2020-09-29
Rated

5

out of

5
by
Anonymous
from
Amazing Product
Really nice and new concept of self refill. Printer is really smooth and fast. Looks great as well. Refill process is really simple. Must buy. Price is justified. Although one refill will print less than 2500 pages, contrary to what is claimed
Date published: 2020-07-14
Rated

4

out of

5
by
Vetrivel prabhu
from
So far so good.....
So far so good, not explored much, struggling to setup WiFi direct printing without a hotspot, the setup process could have been simplified. Free gift redemption process is tricky, don't forget to register the same at the hp website within 15 days of purchase.
Date published: 2022-02-24
Rated

4

out of

5
by
Anonymous
from
Awesome printer
It is a very good printer. Only the concern is the print quality is slightly low compared with Inkjet.
Date published: 2022-01-19
Drivers, Manuals & Support
Looking for software, drivers, firmware, warranty status, or manuals for this device?
Click here
FEATURES
[1] Declared yields based on ISO/IEC 19752 and continuous printing. Actual yields vary considerably based on images printed and other factors. Learn more at http://hp.com/go/learnaboutsupplies.
[3] Constant toner self-reload using imaging-drum-in-place OEM toner supplies compared to majority of worldwide OEM monochrome laser printers
[5] When used in accordance with set up instructions.
Add
Product

No product added to compare list