THE BEST OF ALL WORLDS
THE BEST OF ALL WORLDS
We don't need to tell you how good it looks and feels to play on, but we're going to do it anyways. It's easy on the eyes with a luscious design and fast display.
165HZ REFRESH RATE
Who wants to choose between speed and picture quality? Enjoy a speedy 165Hz refresh rate while silencing choppy gameplay permanently, with a 1ms response time in overdrive.1
QHD DISPLAY
COLOURS FOR DAYS
Nano IPS panel technology with QHD resolution4 delivers extraordinary DCI-P3 98% colour reproduction, immersing you in every game. Wider viewing angles and better contrast enhances your experience.
DCI-P3 98%
Colour reproduction
2560 x 1440
QHD resolution
GET INTO POSITION, IN ANY POSITION
PLAY IT YOUR WAY
Because everyone games with different settings, you can easily adjust your display by 130mm so it comfortably and perfectly fits with your setup.
THREE-SIDED MICRO-EDGE
Good things and threes and all that. With virtually no bezel around the display, an ultra-wide viewing experience creates magnificent multi-monitor setups.
PORTS
PACKED WITH PORTS
Easily connect to your PC, gaming console and peripherals for big screen entertainment with a broad range of ports.
SOFTWARE
OMEN GAMING HUB
Delivering your every gaming wish, except maybe the unlimited lives one.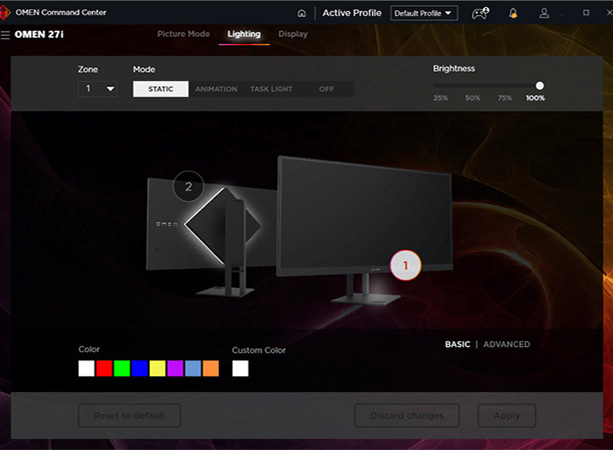 LIGHTING
Always get that perfect colour scheme. With an RGB spectrum of 16.8 million colours to choose from and animations for days, you can customise the lighting across your OMEN devices any way, any day.
PICTURE MODE
It's time to treat your eyeballs. Tweak your display to get the optimum settings for what you're seeing. Go warmer, go cooler, or just get rid of blue light to sort any eye strain.
PERFORMANCE
For the curious and the dedicated, attach a FPS counter to track your real-time frames per second. Toggle your response time to match your mission or with the movie you're watching.
Add
Product

No product added to compare list