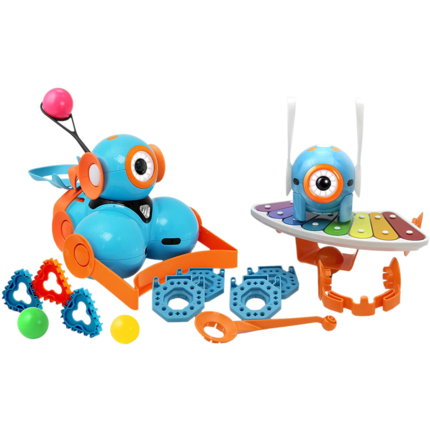 Save 5% on Phillips Hue when purchasing $50 of HP Monitors or Accessories
Learn more
7M5608
Wonder Workshop Dash & Dot Robot Wonder Pack
Wonder Workshop Dash & Dot Wonder Pack
Discover a new world of play and learning
Kids define how they want to play. Whether you're into hosting make-believe tea parties, having jousts at magical kingdoms, or adventuring with friends, Dash & Dot will be there every step of the way. Children ages 5 and up learn the foundations of problem solving and computer programming as they have fun with Dash & Dot.
In addition to the robots and apps, our website offers a variety of fun activity ideas and challenges for you to take on with your new robot friends. Start with these and then invent your own uses for Dash & Dot.
Dash is an explorer who zips around the room, getting into mischief along the way. Using sensors, Dash can detect objects in front and behind, hear where you are, and see where Dot is. This robot has quite the personality and becomes more capable as you program and play.
Introducing Dot
Dot is a puppet master who instigates the adventures that Dash goes on. When you toss, shake, or pick Dot up, Dot sends a signal telling Dash what to do. Dot can also tell stories using lights, sounds, and eye expressions.
Dash's Xylophone
The xylophone turns Dash into a one-robot marching band. Composing your own songs, or remix some of your favorite tunes. Dazzle your family and friends with your masterpiece.
Building brick connectors
The Wonder pack comes with six building brick connectors. Transform Dash & Dot into an animal, a delivery truck, and even a catapult using your own LEGO bricks. Note that LEGO bricks are not included in the pack.
Smartphone mount
Add the power of your smartphone to Dash using the smartphone mount. Make a spy bot by recording video as you tell Dash where to go, or have a Facetime call as Dash turns to who's talking.
Launcher
This fun accessory transforms your Dash Robot into a projectile-launch
Playtime just got smarter with Dash & Dot. Learn to code as you play with your new robot friends and all of their add-ons.
The robots arrive fully assembled and ready to play.
Comes with Brick Connectors and Include Accessories Pack: Xylophone and Smartphone Mount
Use a supported iPad (iPad 3+, Mini, Air) or Android tablet
Dash & Dot interact with the world using sensors. They can hear sounds, detect objects, and know if you are moving them.
Program Dash & Dot to do anything you imagine. Deliver a message to a friend, have a dance party, and even navigate through an obstacle course.