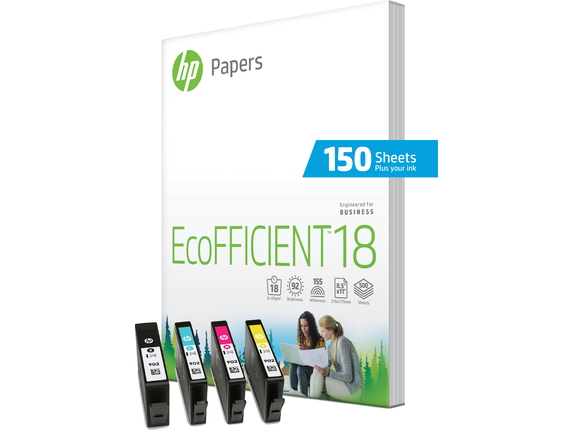 4WN15A
HP 902 Office Value Pack-150 sht/8.5 x 11 in, 4WN15A
color
Black, cyan, magenta, yellow
specifications
Save with ink and paper together in one convenient package
Includes 4 ink cartridges and 150 sheets of 8.5 x 11-in paper
Affordably print small business documents, school projects, and more
Represent your business capabilities in vibrant high-quality color documents. Original HP ink cartridges and ultra-white light business paper[1] provide contrast for eye-catching colors and double-sided printing with no show-through.
Impressive documents and reliable printing
HP paper with ColorLok® Technology delivers crisp, sharp text and vivid colors in graphics.[3] Easily print high-quality double-sided newsletters, flyers, and handouts. Count on HP prints on plain papers using HP pigment inks to stay legible and useful for many years.[4]
Value packs save time and money[2]
Save time shopping for the printing supplies you need with preselected ink and paper value packs for the office. Refill the paper tray less often. Thinner sheets means more sheets fit in your paper tray.[1]
Designed to conserve[1]
Original HP cartridges returned through HP Planet Partners are never sent to a landfill.[5] HP EcoFFICIENT is made from renewable resources from responsibly managed forests. HP is a participant of the Global Forest & Trade Network (GFTN).