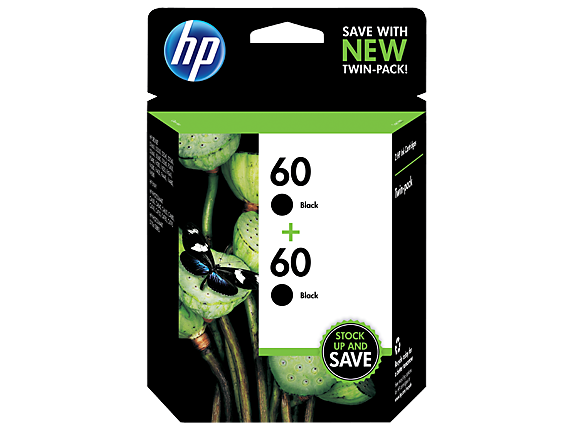 CZ071FN#140
HP 60 2-pack Black Original Ink Cartridges, CZ071FN#140
pages
Per cartridge: ~200 pages
Print high quality text and graphics documents that resist fading.[1] Get user-friendly features, easily reorder and recycle.[2,3] A convenient 2-pack saves shopping time and money for frequent printing.[5] Want more pages, great reliability, and amazing value? You want original HP inks.
Why buy original HP ink?
Get up to twice as many pages vs. with refills¹ Ensure that your printing is right the first time and every time. ¹Based on a SpencerLab 2018 study commissioned by HP for the on-average performance of 12 brands of remanufactured cartridges, refilled cartridges from leading refill service providers, and refill kits compared to Original HP ink cartridges (61XL, 62XL, 63XL, 564XL, 950XL, 951XL, 970XL & 971XL) sold in North America. See http://www.spencerlab.com/reports/HPInkReliability-NA-2018.pdf.
Print sharp text, graphics and images.
Print everyday documents that look great with crisp text and graphics, using Original HP inks. Delight in color images with enhanced detail, using HP ink technology that delivers an extremely small drop size. Store plain paper documents that retain black text and color quality for decades without fading.[1] Print sharp edges on text and graphics using Original HP inks. Use grayscale for crisp documents and images.
Affordable printing with easy-to-use cartridges
Get 2 times more black printed pages and a better value, using a 2-pack of ink cartridge.[5] Finish a critical job even when a cartridge runs low—printing is completed with the remaining cartridge. Get quick and easy cartridge loading—cartridge technology verifies when you're using Original HP. Know when to repurchase. Use the ink level gauge to monitor ink levels.