Bose SoundLink Revolve Portable Bluetooth Smart Speaker - Siri Supported - Lux Gray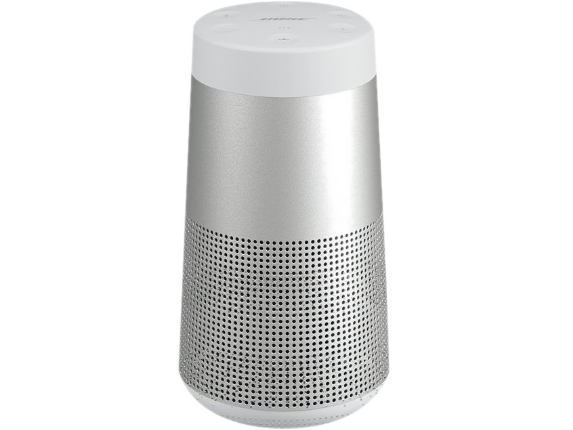 Save 5% on Phillips Hue when purchasing $50 of HP Monitors or Accessories
Learn more
4U1606
Bose SoundLink Revolve Portable Bluetooth Smart Speaker - Siri Supported - Lux Gray
specifications
Bose SoundLink Revolve Portable Bluetooth Smart Speaker - Siri Supported - Lux Gray - 360° Circle Sound - Near Field Communication - Battery Rechargeable - USB
360° Circle Sound - Near Field Communication - Battery Rechargeable - USB
Little speaker. Big goosebumps.

We took our sound in a new direction. Every direction.
Meet SoundLink Revolve, one of our best performing portable Bluetooth speakers yet. It delivers true 360° sound for consistent, uniform coverage. Place it in the center of the room and everyone gets the same experience. Or set it near a wall and sound will radiate and reflect around the room, immersing you. Taking it outdoors? Great, it's meant to go where you go.
Which one is right for you?
Our two 360° SoundLink speakers are similar. There's SoundLink Revolve and SoundLink Revolve+, which plays louder and longer and includes a fabric handle for easy portability.
Astonishingly loud. Surprisingly small.
Don't let its size fool you. This pint-sized enclosure is packed with more technology than meets the eye. A highly efficient transducer. Dual-passive radiators. An omnidirectional acoustic deflector. All of which simply means you'll get lifelike sound ... and real-life goosebumps.
SINGS IN THE RAIN
You're not afraid of a little water. Your speaker shouldn't be either. SoundLink Revolve's water-resistant design means you can use it more places without worrying, like at the pool or by the kitchen sink.
BUMPERS FOR BUMPING
You're not perfect. And with this speaker, you don't need to be. No worries if you knock it over, toss it in your bag or set it down a little harder than you meant to. Soft materials let you bump worry-free.
ALL SOUND. NO SEAM.
No detail is too small. Not even a single seam. Notice our grille doesn't have one. That's because we created a new single-extrusion process to eliminate it-leaving nothing but beauty.
GRAB AND GO
When it's time to move, you don't want to fumble about. That's why we made this speaker grabbable, touchable and easy to operate-right down to the soft, smooth buttons that ensure ev Google Voice Control,Microphone,Multi Device Pairing,Omnidirectional Sound,Passive Radiator,Voice Command,Wireless Pairing