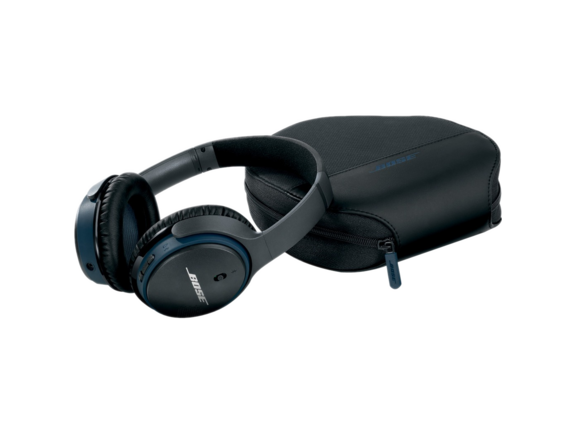 Save 5% on Phillips Hue when purchasing $50 of HP Monitors or Accessories
Learn more
ZM7356
Bose SoundLink Around-ear Wireless Headphones II
specifications
Bose SoundLink Around-ear Wireless Headphones II - Stereo - Wired/Wireless - Bluetooth - 30 ft - Over-the-head - Binaural - Circumaural - Black
Stereo - Wired/Wireless - Bluetooth - 30 ft - Over-the-head - Binaural - Circumaural - Black
Wireless freedom meets best-in-class sound
Freedom. Convenience. The big advantages of wireless headphones. But Bose gives you a better wireless experience all around. Deep, immersive sound at any volume. Clearer calls at both ends of the communication. Seamless switching between two connected Bluetooth® devices, so you'll never miss a call or that movie you're watching. Read on, and discover why these are the best-sounding wireless headphones you'll find anywhere.
Deep, immersive sound for music from exclusive technology
Clear, natural sound at both ends of a call, even in windy or noisy environments
Switch easily between two connected Bluetooth devices (e.g., smartphone and tablet)
Up to 15 hours play time with rechargeable lithium-ion battery
Lighter and more comfortable than comparable wireless headphones
Unsurpassed sound


A better wireless headphone experience begins with what you hear. And SoundLink® around-ear wireless headphones sound better than any in their class. A combination of TriPort® technology and Active EQ delivers sound that's crisp and powerful at any volume. So you can be truly moved by your music as you move with it, untethered.
Clearer calls


These versatile headphones are designed to optimize your phone calls, too. An advanced microphone system with HD Voice and adaptive audio adjustment provides clear calls even in windy or noisy environments. And enhanced sidetone makes your voice sound more natural, as if you weren't wearing headphones.
Easy connecting. Seamless switching.


The latest Bluetooth technology lets you easily connect to your mobile devices with seamless audio/video sync. And you can stay connected to-and switch between-two devices at a time. Say you're watching a video on your iPad® and a call comes in on your iPhone®. If you choose to take it, the headphones Comfortable,Corrosion Resistant,Durable,Foldable,Impact Resistant,Lightweight,Noise Reduction,TriPort Technology,USB Charging,Voice Prompt