For many of us, thinking about laptop battery life conjures stressful memories of mishaps related to a loss of battery power. We all want laptops with good battery life, but professionals sometimes need to ask a much more difficult question: What is the best or longest battery life laptop available?
To answer that question as thoroughly as possible, let's take a look at the HP laptops with the best battery life and overall power consumption on the market today.
The benefits of a long-lasting laptop battery
While we often spend a large percentage of our time at home or in the office, there are many times when it isn't convenient or possible to maintain a continuous power supply to your laptop.
Whether you're trying to squeeze some work in during your commute or trying to get things done while traveling, you can't always count on finding an electrical outlet.
If you're traveling abroad in particular, a short battery life potentially means lugging around a lot more than just your laptop. There's also the fact that you may lose power at the wrong moment, which is a constant risk when working from older computers with batteries that have aged and deteriorated. For students, professionals, and anyone with a busy routine, it's a distracting, stress-inducing, and unnecessary hassle.
It can be challenging for almost anyone to plan ahead without a long-lasting laptop battery and often impossible without resorting to bulky power cords or special arrangements for a dedicated power source. Fortunately, improving technology means much more is possible these days.
Laptop models reviewed in this guide
As a cross-section of the available devices, this list of HP®'s best laptops with great battery life is diverse and varied. These laptops boast an array of features and price points, and they include the following:
If you're interested in touch screen options, you're in luck, too. Most of the models in this list can be configured to include some level of touch functionality.
HP laptop battery life and Fast Charge features
Over the last several years, we've seen a dramatic increase in the typical laptop battery life. They've gone from an average of around 7 to 8 hours to new estimates that often thoroughly exceed the typical workday.
Many of HP®'s best battery life laptops also feature Fast Charge technology, so that you won't have to wait too long for your battery to recharge.
Read on below to find the best battery life laptops for you in addition to complete product reviews of the aforementioned devices.
1. HP Chromebook x360 convertible laptop
If you're looking for the best budget laptop with long battery life, consider the HP Chromebook x360 laptop. This 14-inch convertible notebook is an impressive device on all fronts. In addition to being highly affordable, it offers a whopping estimated 13 hours and 30 minutes of battery life when working on a full charge. That's far more than the average workday and potentially enough to last from morning to evening.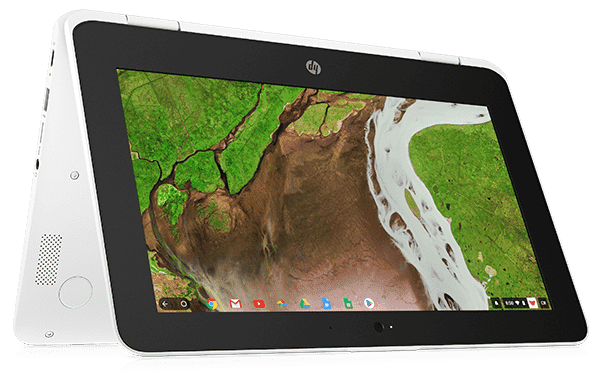 For those unfamiliar with the HP Chromebook or Google's efficient Chrome OS, let's take a closer look at both in addition to the laptop's hardware and features.

HP Chromebook and Chrome OS
Designed to minimize power consumption and shift the strain of certain processes to the cloud, the HP Chromebook family represents a new class of thin client notebooks using a Google Chrome interface.
Chrome OS is based on Linux and supports an expanded suite of web-based applications, making it an accessible setup to just pick up and start using.
With the right cloud arrangements, an HP Chromebook can offer initial cost savings and potentially build in more savings over the long haul thanks to a streamlined build and modest power profile.
Specs and features
Much more than an inexpensive laptop with exceptional battery life, the 14-inch HP Chromebook x360 is packed with functionality. To start, the "x360" designation means that it's also a 2-in-1 convertible laptop with multiple work modes.
Using the strong hinge and chassis, you can adjust your display from standard laptop mode all the way back for an easy tablet arrangement, with a range of options in-between for other purposes.
While the HP Chromebook uses the Chrome OS to streamline your laptop's operations, you'll still find some recognizable features like the 8th Generation Intel® Core™ processor with integrated Intel UHD Graphics 620 and 8GB of onboard memory. This longest battery life laptop even features audio by Bang & Olufsen. Plus, it's all wrapped in a ceramic white exterior with a mist blue base and keyboard frame.
Part of the reason that HP Chromebooks can offer superior battery life is their streamlined design and focus on cloud applications. This puts less strain on the power supply from resource-heavy processes. For anyone shopping on a budget, the HP Chromebook x360 is a strong contender for the best battery life laptop under $1,000.
If you like the sound of an HP Chromebook but want to shop around before committing, check out the full lines of home and business HP Chromebooks.
2. HP ENVY x2 detachable laptop
The HP ENVY x2 laptop is another streamlined build that offers SSD storage and a seriously long-lasting battery. It boasts a compact detachable build, a robust Corning® Gorilla® Glass touch screen display, and a battery life of up to 17 hours and 30 minutes (with up to 19 hours for video playback).
Depending on your routine, that's potentially enough battery life to last through several days without recharging. While the HP ENVY x2 may struggle with the most resource-heavy programs out there, it's a great option when battery life and cost are at the top of your priorities list.
This laptop includes a 7th Generation Intel Core i5 processor with integrated Intel HD Graphics 615, a 128GB SSD, and 4GB of onboard memory. With Bang & Olufsen dual speakers and the robust display, it's a great hub for streaming audio and video. It's also extremely compact at just 3.47 lbs and less than one-third of an inch thick.
The HP ENVY x2 notebook also features an adjustable folio case that makes it easy to carry. To use it as a detachable, simply remove the display from the keyboard and voila, you can use it as a high-performance tablet.
3. HP EliteBook 850 G5 business laptop
HP EliteBooks consistently have some of the longest battery life and varied prices across HP®'s entire laptop selection, which justifies looking at the entire line. That being said, the customizable HP EliteBook 850 G5 notebook PC is a great benchmark for the line with its power estimates.
The HP EliteBook 850 G5 is highly customizable with a huge range of options, some of which can affect power consumption and battery life. As such, battery life ultimately depends on your build. But the base configuration can run for 17 hours and 30 minutes on a full charge.
The HP EliteBook 850 G5 is built with support for the latest USB-C™ connections and an HP Thunderbolt dock. It also has premium audio by Bang & Olufsen, beefed-up security options like a built-in fingerprint reader, and noise cancellation features for conferencing and collaboration.
From there, you can choose between Full High Definition (FHD) and Ultra High Definition (UHD) displays, memory and storage capacity, and the processor and graphics loadout.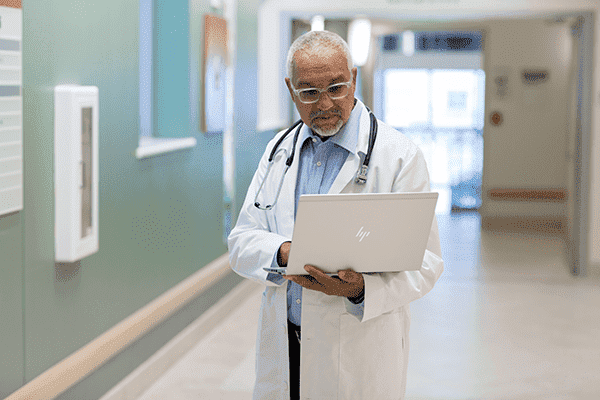 Again, upgrading too much of the hardware may result in a reduced battery life estimate.
4. HP Spectre x360 / Folio convertible laptops
Both of these premium HP ultrabook configurations have similar hardware and 2-in-1 convertibility features, but they have slightly different starting estimates for battery life on a full charge.
HP Spectre x360 laptop
A little smaller and thus more affordable than the HP EliteBook 850 G5, the HP Spectre x360 13t is a powerful 2-in-1 convertible laptop with a solid 16 hours and 45 minutes of battery life in the base configuration. You can also upgrade to 4K, but it will cut that estimated lifespan down to 10 hours.
Like other laptops on this list, the HP Spectre x360 13t laptop can be used in multiple modes, with a focus on the traditional laptop mode and the more portable tablet mode. It's also highly customizable, with room for up to 2TB of responsive SSD storage, 16GB of memory, and a selection of different processor and graphics configurations.
When using the touch screen, you can feel safe knowing your choice of FHD or 4K display is backed by Corning Gorilla Glass. This additional display protection is built-in from the base model, and you can upgrade the FHD display to include an integrated computer privacy screen.
If you're looking for the best touch screen laptop with long battery life, this is it.
HP Spectre Folio laptop
While it contains many of the same specs and features as far as customizability, the HP Spectre Folio edition is a luxury model that stands out because of its all-leather exterior and amazing battery life. You'll enjoy as much as 21 hours and 15 minutes of laptop battery life with the FHD display panel, or up to 11 hours and 30 minutes with premium UHD.
If you're focused on finding a performance laptop with the longest life and highest possible quality, the HP Spectre Folio's great specs definitely make it a candidate for the best battery life 2-in-1 laptop available from HP®. For a top-shelf device, the base configuration and affordable starting price help make it more accessible than you may assume.
5. HP ZBook Studio G5 mobile workstation
The HP ZBook Studio G5 mobile workstation provides a competitive combination of features and great laptop battery life. With the base configuration, you can expect as much as 16 hours from a full charge, and with HP Fast Charge you can get back up to 50% in just 45 minutes.
The HP ZBook Studio family was inspired by the needs of designers, engineers, and professionals who regularly use multiple applications for their work. It can meet those needs and then some by incorporating three drives for up to 5TB of combined SSD storage and 64GB of RAM.
It also features an HP DreamColor display with full Adobe RGB coverage and 600 nits of brightness plus a full range of processor and dedicated graphics options to choose from. It can run up to an Intel Xeon® processor configuration with an NVIDIA® Quadro® P1000 graphics card.
If you prefer a more flexible model, you can find similar specs plus 2-in-1 convertibility from the HP ZBook Studio x360 laptop.
Choosing what's best for you
Settling on a new laptop is a big commitment, so you should focus your search on the features that matter most to you. Battery life is of course very important for most users, but there may be other factors that will impact your decision.
Whether you need 2-in-1 convertibility or a  gaming laptop with the best battery life, finding the right balance is key so that you make the right purchase for you and your specific needs.



About the Author: Dwight Pavlovic is a contributing writer for HP® Tech Takes. Dwight is a music and technology writer based out of West Virginia.