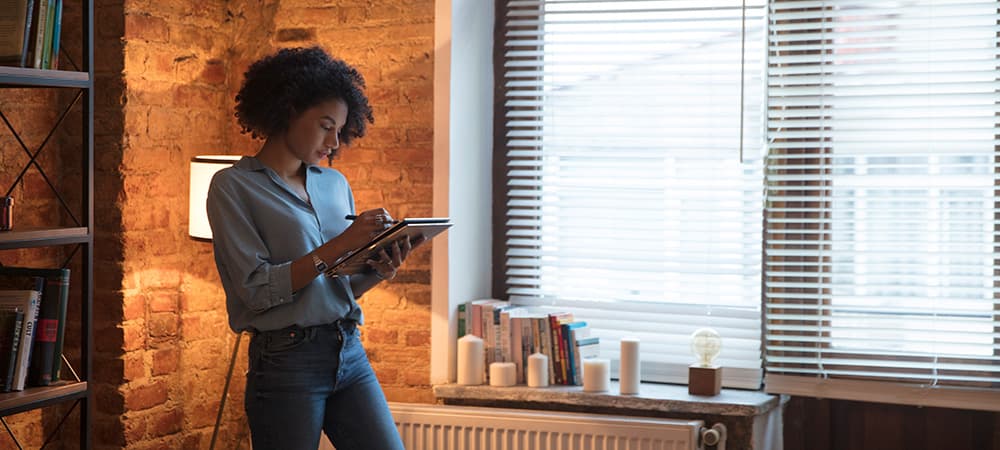 Beyond their improved power and speed, newer iterations of laptops also tend to be much smaller than their older counterparts. In many cases, you can even find models that are less than an inch thick. What's more, these improvements have led to a more competitive marketplace, where you can find more variety and a wider range of prices than ever.
With a growing field of new HP thin laptop designs that emphasize mobility and convenience, the demand for more portable and powerful computing options is definitely here to stay. To coincide with the demand, companies like HP® are building their most efficient and best lightweight laptops yet.
These include designs like the Ultrabook, which refers to laptops that offer the best balance of performance and size. For example, these devices offer long battery life and performance features like solid-state drives (SSD).
In this article, we'll take a look at the five best thin laptops available from HP®. Several are Ultrabook configurations while others are thin, best-in-class models from their respective product lines. Whichever you choose, you won't make any sacrifices based on dimensions, because they're all within an inch of each other in terms of thickness.
Here are the laptops we'll cover:
Advantages of thin laptops
There are many reasons to consider a light laptop, particularly when you consider the appropriately named Ultrabook models. As noted, the best thin laptops combine portability and performance. While your specific needs may vary, there are a few distinct advantages to keep in mind.
Whether it's primarily for travel or meant to serve as your primary PC, using a thin laptop means you can count on less hassle, clutter, and weight when you're on the move. Improving technology means you won't take a hit on performance just because you chose a lightweight laptop either. A thin Windows laptop from HP® can fit enough memory, storage, and graphics potential to satisfy all types of users.
The Ultrabook configuration is built for heavy-duty users, which means big hardware perks in terms of storage, RAM, and processing. Given that market, you'll also often see more aesthetic details in the exterior finish. If looks and performance are big priorities, consider one of HP's powerful Ultrabooks.
Things to keep in mind
For most users, portability and comfort are at the forefront when shopping for the best lightweight laptop. Pay close attention to physical measurements including thickness, width, and depth. Also consider the following questions:
How does it compare to other laptops I have owned?

Does it fit into my existing 

travel case or bag

?

Is it compatible with my 

accessories

?

Can I use it comfortably in my usual workspace?

How much battery life do I need?

What level of security is necessary?
It's also important to remember that some available options may sacrifice an integrated CD/DVD drive for more critical hardware. If this is important for you, though, you can always pick up an external optical drive.
Whether you're looking for the best thin gaming laptop or the right thin Windows laptop for you, there are plenty of options to consider. Continue reading to find the right compact HP laptop for you.
1. HP Chromebook x360 14-inch laptop
The incredibly affordable HP Chromebook x360 14-inch notebook is a stand-out convertible model from HP®. It's also very light and thin at 2.71 lbs and 0.63 inches thick. And with up to 13 hours and 30 minutes of battery life and a full range of ports, it's a great option when portability is a must.
For anyone unfamiliar with the HP Chromebook and Chrome OS, let's take a look at how everything works in these laptops.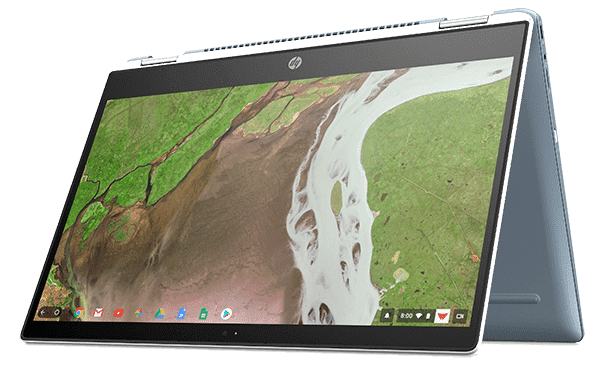 Web-optimized computing with the Chrome OS
While traditional laptops rely on local hardware and operating systems, the HP Chromebook runs on Chrome OS, which relies primarily on web-based applications. This leads to a much lighter weight and reduced physical profile, though you can still enjoy deep storage and a high degree of responsiveness - all thanks to the cloud.
Chrome OS is built around the popular Chrome browser. With a growing catalog of apps and support for offline work, the HP Chromebook and Chrome OS are an impressive alternative to a conventional thin Windows laptop. These devices are also popular because of their security features through Google for most of your files. Plus, there's a Kensington Nano Security Slot™ for added local protection.
Versatility through convertible features
HP's thinnest Chrome OS laptop, the 14-inch HP Chromebook x360 is also a robust convertible model with touch functionality and multiple work modes. Use it as a traditional laptop or fold the keyboard back and work on-the-go in tablet mode. However you want to work, you'll find a way to do it on the Full High Definition (FHD) touch display.
Local hardware and features
This HP Chromebook x360 comes with the latest 8th Generation Intel® Core™ processor and integrated Intel UHD Graphics 620. To back that up, it also has 8GB of RAM and 64GB of eMMC storage for offline use. That's a solid benchmark for RAM for any type of laptop and is more than capable of handling the HP Chromebook's many web-based applications.
2. HP ENVY x2 laptop
Measuring only 0.27 inches thick, the HP ENVY x2 laptop is the thinnest laptop on our list and available for less than $1,000. It's actually thinner than most books and even many magazines, making this ultra-thin laptop a superior choice for those who commute or travel often.
It's also detachable, which means you're basically getting two devices in one. You can use it as a traditional laptop or remove the keyboard to enjoy it in tablet mode. The overall device weighs just 2.67 lbs, but that weight shrinks to 1.54 lbs when used as a tablet.


Under the hood
The HP ENVY x2 is a standout intermediate model with the functionality and convenience of a tablet but performance closer to a traditional PC. Powered by a Qualcomm® Snapdragon™ 835 processor with an integrated Qualcomm Adreno™ 540 GPU, it also has 4GB of RAM and a 128GB UFS hard drive.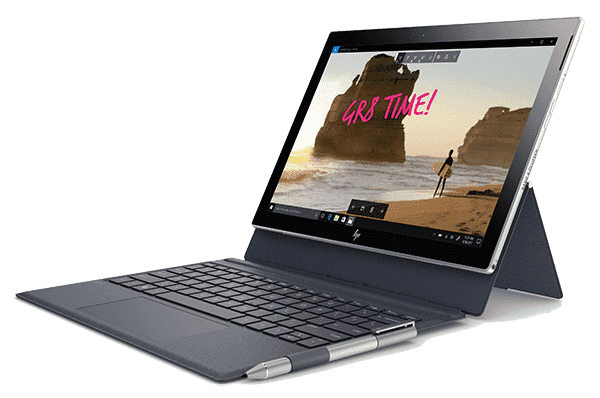 Great specs and multimedia features
Equipped with an 8th Generation Intel Core i7 processor, integrated Intel UHD Graphics 620, and Intel Turbo Boost Technology, this laptop is a cut above the rest when it comes to specs. It also ships with 16GB of RAM and a 512GB SSD, so you can count on highly responsive computing.


It also boasts a high-resolution FHD display and the protection of Corning Gorilla Glass NBT™ for touch use. For audio, you'll enjoy quad speakers with tuning by Bang & Olufsen.
The high-resolution WUXGA+ IPS BrightView WLED-backlit display handles the visuals, and you get durable Corning® Gorilla® Glass for extra confidence when using touch functions. To make the entertainment experience complete, it has dual speakers with audio tuning by Bang & Olufsen.
Unparalleled portability
With its slim measurements, the HP ENVY x2 is already one of the most lightweight laptops around, but the built-in 4G LTE and a slate of other features make it even more versatile. It has a staggering estimated 19 hours of battery life, with up to 22 hours for video playback. You won't ever have to worry about interrupting your workflow to recharge or find an outlet.
Other impressive options from HP ENVY
If you're interested in a similar, albeit non-detachable, laptop, the HP ENVY family has a variety of stellar options with a high bar for performance and some of the trimmest measurements around. You'll find traditional laptop layouts and several convertible options, all measuring well below one-inch thick.
3. HP Spectre x360 13-inch laptop
For a thin convertible laptop devoted to performance and usability, the HP Spectre x360 13-inch laptop is difficult to beat. It has the second-thinnest build of everything we'll cover at just 0.57 inches and a weight of 2.92 lbs.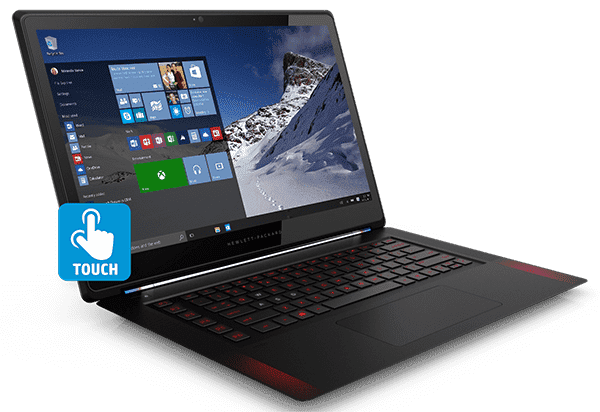 The most heavy-duty configurations rival Ultrabooks or mobile workstations for performance. Even with the addition of more advanced thermal regulation, this HP OMEN laptop still measures less than an inch thick.


Top specs with optional Intel Optane memory
Each configuration ships with a powerful 8th Generation Intel Core i7 processor, and you'll have your choice of NVIDIA® GeForce® graphics card, up to the powerful GTX 1070 with Max-Q design. It also has up to 32GB of RAM so you can choose your price and performance level, with plenty of capacity for a variety of new game titles plus whatever life throws at you.
Premium hardware and features
Starting out with an 8th Generation Intel Core i7 processor and Intel Turbo Boost Technology, this laptop can boast as much as 32GB of RAM and 2TB of SSD storage. As a result, it offers great stability and responsiveness for projects large and small, with plenty of space for big files and software.



You'll also find tons of options to customize. Work in low light? Add optional backlighting to the dual point, spill-resistant collaboration keyboard. Want extra security? Add a fingerprint reader for more robust login security and an HP Sure View privacy screen for discretion. There's even HP Sure Click to help protect against many common types of web-based attacks.
Portable and secure
With its impressive aforementioned dimensions, the HP Spectre x360 travels extremely well. It also provides up to 11 hours and 45 minutes of battery life to keep you going. To control your power consumption, you can shift between cool, quiet, and performance modes based on need. The full range of ports and convertible features add to its adaptability across a range of environments and scenarios as well.
The HP Spectre x360 is also loaded with great security and privacy features. These include an integrated HP Sure View integrated privacy screen, a biometric fingerprint reader, and a built-in privacy camera kill switch.
Minimal environmental impact
Beyond its long-lasting power, this HP Spectre x360 has a trim power profile. It comes with the reassurance of ENERGY STAR® certification and an EPEAT® Silver rating.
4. HP OMEN 15t laptop
Despite being one of the wider display options on our list, the HP OMEN 15t laptop is a surprisingly thin and light gaming laptop. Great hardware potential means that it's also well-prepared for other demanding tasks if you prefer using yours for more than just gaming.
You'll find just as many options for the hard-drive, with as much as 2TB of SATA storage plus up to 512GB of efficient PCIe® NVMe™ M.2 SSD storage. Or you can opt for 16GB of PCIe NVMe™ Intel Optane™ memory.
Customizable laptop gaming with 4K
Part of the advantage of HP's OMEN line is a range of gamer-friendly features, like improved ventilation to keep things extra-cool during hectic gameplay. It also has fully customizable keyboard lighting and color accents, the convenience of the HP OMEN command center for PC management, and NVIDIA G-SYNC™ for visual clarity and smoothness.
To get the most out of a superior hardware configuration, you can choose your choice of display too. For the highest end option, there's the 4K Ultra High Definition (UHD) LED anti-glare display with WLED backlighting and an accommodating micro-edge. It offers four times the resolution of a typical FHD.
Energy-efficient features
This HP OMEN laptop also gets top marks for energy efficiency, with both ENERGY STAR certification and EPEAT Silver rating. With performance specs and impressive efficiency, it's one of the best thin gaming laptops you'll find from the popular HP OMEN line.
5. HP ZBook 15U mobile workstation
At the top of our list for performance, the HP ZBook 15U mobile workstation is also one of the best ultra-thin laptops on the market. The entire HP Z series was built with impressive hardware features for the most demanding professionals, like those working in graphic design and data analysis. When it comes to pure performance and features, it's unbeatable.
Powerful 4K displays and graphics
The HP ZBook 15U also tops our list in terms of display real estate and quality because you can upgrade it to a 4K UHD LED anti-glare display. It also boasts premium dual speakers with tuning by Bang & Olufsen to enhance your multimedia experience. Plus, you get a built-in HD webcam and optional touch functionality to make your laptop a great platform for collaboration.
The base configuration ships with integrated Intel HD Graphics 620, some users may prefer the advantages of dedicated graphics. If you want the most from gaming or complex visual tasks, configure yours to feature the discrete AMD Radeon™ Pro WX 3100 graphics card.
A portable powerhouse
Like the HP OMEN we discussed, the HP ZBook 15U is actually thinner than the smaller models in its family. It compensates for the added width and depth while adding overall stability. With its incredible power and measurements of just 0.72 inches thick and 3.89 lbs, this laptop is a strong contender for the best thin, lightweight laptop from HP®.
The long-lasting battery provides up to 10 hours before you need to recharge, and the HP Fast Charge technology allows you to restore as much as 50% battery life in just 30 minutes. Despite that and a big range of hardware options, it's still available in ENERGY STAR approved configurations.
In summary
When it comes to finding the best thin laptops, the variety of models available from HP® makes sure you can find the right one for you. Whether it's the versatile HP Chromebook x360 or the high-powered HP ZBook 15U, there's an ultra-thin laptop to meet your needs.
Finding the right laptop that balances performance and size can be a challenge. Fortunately, the HP Store is a great source for thin laptops of all configurations and styles.



About the Author: Dwight Pavlovic is a contributing writer for HP® Tech Takes. Dwight is a music and technology writer based out of West Virginia.