Check availability at
Delivery estimate to is:
Standard Delivery charge: Free
Wired headphones with an adjustable boom mic for crystal clear conversations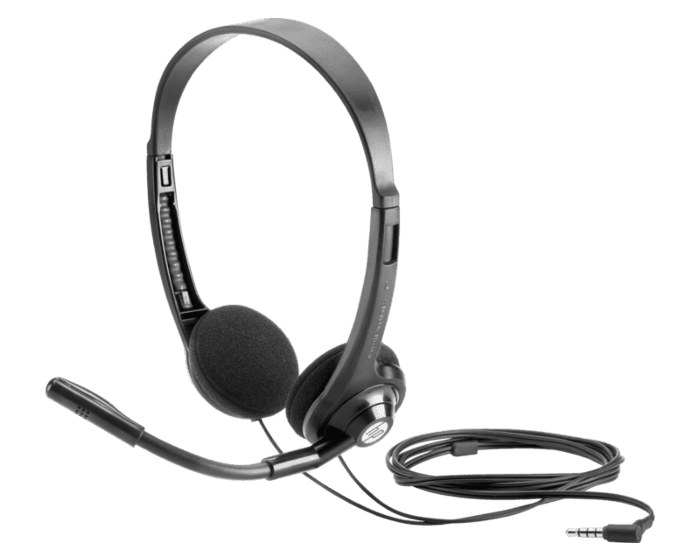 Amplify your day-to-day communication and entertainment needs, with an on-ear headset designed to keep you connected. With a high-quality boom microphone, adjustable fit, and crystal clear audio—experience all-day comfort and immersive sound. From phone calls to music, this reliable headset keeps up with your busy day.
Sharp audio. Stereo sound.
Make calls, listen to music, and watch videos with crisp audio thanks to powerful 28mm drivers.[1]
Clarity in every phone call
An adjustable, unidirectional boom mic that focuses sound capture for crystal clear conversations and recordings.
Cushioned comfort all day
Soft, cushioned pads rest comfortably on the ear for hours of enjoyable listening.
Find the right fit
Personalize your listening experiences with an adjustable headband that conforms to your unique fit.
3.5 mm stereo jack
Easily plug in to all your favorite 3.5 mm enabled laptops, phones, and tablets.
What's in the box
HP Boom Mic Headset 150
Product notices
Warranty card
Hardware compatibility
Works with tablets, smartphones, PCs and other devices with 3.5 mm connectivity
More Information
Sku
Sku
2EM62AA
Usage
Usage
Everyday user
Dimensions
Package dimensions (W x D x H)
8.4 x 7.2 x 2.04 in
Minimum dimensions (W x D x H)
6.5 x 6.2 x 1.7 in
Package dimensions (W x D x H)
21.5 x 18.5 x 5.2 cm
Dimensions without stand (W x D x H)
17 x 16 x 4.5 cm
Weights
Package weight
0.436 lb
Package weight
0.198 kg
Weight
0.059 kg
Warranty
Warranty
1 Year Limited Warranty (Return to HP/Dealer - Standard Bench Repair & Phone-in Assistance)
Compatibility
Hardware compatibility
Works with tablets, smartphones, PCs and other devices with 3.5 mm connectivity
Appearance
Color
Black
Rated

5

out of

5
by
Catherine
from
Highly recommended
Lightweight, comfortable, easy to use. Clear sound and voice quality.
Date published: 2021-10-28
Rated

5

out of

5
by
Rick
from
Low cost headset
Fine and simple headset for my virtual meeting and leisure.
Date published: 2021-07-28
Rated

5

out of

5
by
jjamain
from
Excellent. Loud and Clear
All good. Clear. Match with my HP Elitebook
Date published: 2021-07-26
Rated

5

out of

5
by
Anonymous
from
Comfortable and affordable Headset
Great headset at a reasonable price. It's light weight and good sound quality have provided comfort to the ears for long virtual meetings.
Date published: 2020-08-24
Rated

4

out of

5
by
TechNoob
from
Worthy Buy
Delivery was within 2 work days. Economic tool for students' home-based learning & adults' work-from-home conferences. Hope it can last.
Date published: 2021-08-06
Rated

4

out of

5
by
Mel.R
from
HP boom mic headset150
Fast delivery. Overall am alright with the quality although at times heard some muffles. Other side can hear crisp sound of me.
Date published: 2021-05-10
Rated

4

out of

5
by
ssengupta
from
Affordable headset with good microphone
I was looking for good wired headset with dedicated mic and a 3.5 mm jack - this was a great option from HP. Audio quality is very clear and compatible with all devices from laptop to tablets. The mic is directional - so it only catches audio from my mouth and needs to be positioned correctly. Build quality is somewhat low, but not much an issue. Its qutite comfortable for non-stop 2 hours of continuous use. Audio quality is good (not great), but meets my need of calls, video calls, conference etc.
Date published: 2020-07-01
Rated

4

out of

5
by
nonickname
from
good headset
good audio/calls.. light and comfy on the ears. shud be durable though.. but not sure abt that.. recently bought it.. make feels lil delicate very gud for the price in which its being offered.. compared to the others which are available
Date published: 2020-04-20
[1] Listening to personal stereo equipment at high volume for long periods can damage the user's hearing. To reduce the risk of hearing damage, lower the volume and amount of time listening at full volume.
Add
Product

No product added to compare list