Black

Ink

Cartridges

3000
Check availability at
Delivery estimate to is:
Standard Delivery charge: Free
HP 959XL Ink Cartridge, black
HP 959XL High Yield Black Original Ink Cartridge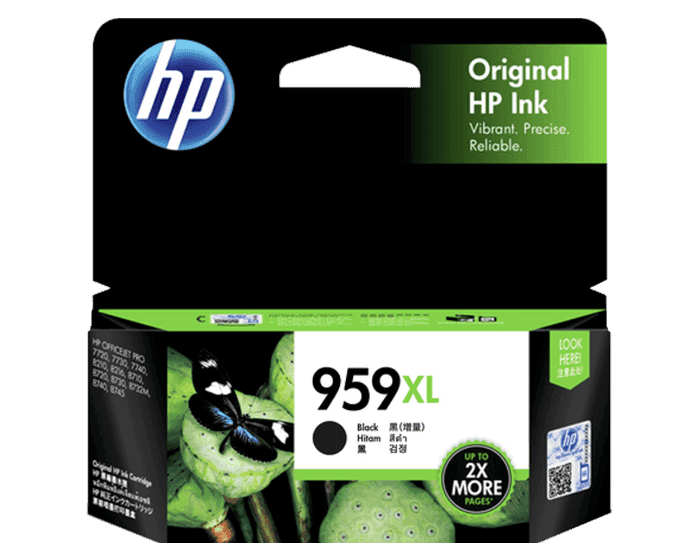 Original HP 959XL Black Ink Cartridge
When quality and reliability matter,
choose Original HP Cartridges.
Quality
Precision output,
page after page1
Indoor Air Quality
Meets eco-label
emission criteria2
Sustainability
Designed with the
planet in mind
Count on Original HP Ink Cartridges
Designed to Work the First Time, Every Time1
On average, Original HP Inks print up to 2x the pages than non-HP inks tested.1
Value &
Convenience
Save Time & Money with XL Packs.
Designed with the
Planet in Mind
Feel good about printing knowing most Original HP Ink cartridges are developed from recycled materials including plastic bottles and ocean-bound plastics.3
Designed to Comply
with Indoor Air Quality
Maintaining indoor air quality is an HP priority. Original HP Ink cartridges are designed to follow strict indoor air quality criteria.3 HP voluntarily designs and tests its printing systems to prevent emissions that exceed eco-label guidelines.2
Keep Your
Memories Alive
Print fade-resistant photos and documents that last generations.4
Prints You can take
Pride in
The choice you can trust - help avoid frustrating reprints, wasted supplies, and delays. Choose Original HP Ink cartridges, designed for reliability and consistency the first time, and every time.1
Recycled Content
Matters
By manufacturing new cartridges from returned HP cartridges and other plastics, HP contributes to a circular economy. Over 82% of new Original HP Ink cartridges contain recycled content.3
Reliability You Can Trust
Up to 64% of tested non-HP inks failed out of the box or prematurely.1
35 Million Drops
Formulated with state-of-the-art technology, Original HP Ink Cartridges gives you sharper and brighter prints so you don't compromise on quality. It takes 35 million drops of Original Hp Ink to get a perfect 4x6 photograph. Every drop of Original HP ink is formulated after decades of scientific research to produce bright and sharp photos.5
Ink Speed 2,000 Times
Faster than You Blink
Original HP Ink drops reach the paper 2,000 times faster than the blink. Engineered with revolutionary technology, every drop of Original HP Ink reaches the paper much before you can blink your eyes so you can print sharper, brighter photos in no time. You can now get superior quality prints at unmatchable speed.6
16.5 Million Color Combinations
Original HP Ink Color can compute a whopping 16.5 million color combinations! Cartridges formulated with advanced technology, original HP Ink Color cartridges can create millions of color combination so you can print vibrant and sharp photos – every time. HP ink has carefully balanced ingredients and is formulate for optimal print quality.7
Environment Friendly
HP strives to reduce environmental impact. Over 4.7 billion plastic bottles have been used as recycled content in the manufacturing of new Original HP Ink cartridges.8 Using recycled content in our ink cartridges helps to reduce HP's carbon footprint in plastics by up to 30%.9
On average, HP helps divert almost 1 million plastic bottles per day by using them as recycled content in new ink cartridges.8 Producing Original HP cartridges with recycled plastic instead of new plastic reduces total water consumption by an average of 39%.9 By using recycled plastics in our manufacturing process, HP reduces its fossil fuel consumption in plastics by 60%.9
Ensure dependable, high-quality results at fast speeds, page after page. Original HP ink cartridges provide impressive reliability and standout results, so you'll get the performance your HP printer or all-in-one was built to deliver.
Original HP ink cartridges are specially designed to work with your HP printer or all-in-one.
Easily replace cartridges and tackle high-volume print jobs with Original HP ink cartridges.
Ensure outstanding performance and high-quality results at fast speeds with HP proprietary inks.
Print professional-quality documents with sharp black text. Rely on Original HP ink cartridges to produce business output that resists water, smearing, and fading.[1]
Consistently produce professional-quality black text, using pigment inks designed for the office.
Produce water-, smear-, and fade-resistant prints.[1]
Print sharp black text on a variety of papers—including ColorLok® papers—with Original HP ink cartridges.
Print reports, emails, proposals, and other business documents on a variety of papers.
Stay productive and count on a great value for business printing, using Original HP ink cartridges. Print affordably with individual inks, and get a lower cost per page while minimizing interruptions with high-yield ink cartridges.[2]
Print affordably with individual cartridges. Simply replace each cartridge separately, as needed.
Print with cartridges that are designed to conserve resources. Take advantage of easy recycling and minimal packaging to help reduce the time it takes to manage your environmental impact.
Easily recycle your Original HP cartridges at no charge through HP Planet Partners.[4]
Through the Design for Environment program, HP engineers products to be energy efficient and recyclable.
Conserve resources—Original HP ink cartridges are shipped in streamlined packaging.
Cartridge Colors: Black
Ink
~3,000 pages
High Capacity Ink Cartridges
Hardware compatibility
HP OfficeJet Pro 8210 Printer, HP OfficeJet Pro 8216/8218 Printer, HP OfficeJet Pro 8720 All-in-One, HP OfficeJet Pro 8730 All-in-One, HP OfficeJet Pro 8740 All-in-One
More Information
Sku
Sku
L0R42AA
Cartridges and Printheads
Yield
3000
Page yield (black and white)
~3,000 pages
Ink drop
10.5 pl
Cartridges Capacity
High Capacity Cartridges
Print head nozzles
1568
Printhead swath (inch)
1.25 in
Cartridge color
Black
Technology
Ink
Print cartridge volume delivered
63.5 ml
Color(s) of printing supplies
Black
Ink types
Pigment-based
Supply type
Cartridges
Product Names
Product sub type
High Capacity Ink Cartridges
Dimensions
Dimensions without stand (W x D x H)
119 x 126 x 36 mm
Package dimensions (W x D x H)
119 x 126 x 36 mm
Minimum dimensions (W x D x H)
4.69 x 4.96 x 1.42 in
Package dimensions (W x D x H)
4.69 x 4.96 x 1.42 in
Warranty
Warranty
6 Months Limited Warranty (Return to HP/Dealer)
Warranty
HP's ink cartridges and printheads are warranted to be free from defects in materials and workmanship during the period of the warranty. This warranty pertains to the product when used in its designated HP or authorized OEM printing device. HP will, at HP's option, either refund the purchase price or replace products that prove to be defective. Visit the HP online support web site http://www.hp.com/support for a list of support phone numbers and conditions or return to your point of purchase.
Environmental
Operating temperature range
5 to 35°C
Non-Operating Humidity Range
10 to 90% RH
Operating humidity range
10 to 90% RH
Storage temperature range
-40 to 60°C
Geographic
Country of origin
Made in China, Malaysia
Compatibility
Hardware compatibility
HP OfficeJet Pro 8210 Printer, HP OfficeJet Pro 8216/8218 Printer, HP OfficeJet Pro 8720 All-in-One, HP OfficeJet Pro 8730 All-in-One, HP OfficeJet Pro 8740 All-in-One
Weights
Weight
0.13 kg
Package weight
0.15 kg
Package weight
0.33 lb
Printer Specifications
Print technology
HP Thermal Inkjet
Appearance
Color
Black
*Purchase before 12pm to have your supplies delivered the next day!
Any order beyond two units will be removed from the cart
[1] Water, smear, and fade resistance based on ISO 11798 and internal HP testing. For details, see http://www.hp.com/go/printpermanence.
[2] Based on cartridge yields for HP 959XL ink cartridges compared with HP 952A ink cartridges. For more information, see http://www.hp.com/go/learnaboutsupplies.
[4] Program availability varies. For more information, visit http://www.hp.com/recycle.
Add
Product

No product added to compare list