When you're searching for the best business laptop computer, we know your needs and preferences will change drastically based on the nature of your business. However, most entrepreneurs and professionals depend on similar, specific features to support their workflow.
Artists and designers need powerful graphics cards and comfortable display options, while data-driven professions crave capacity, speed, and manageability. The work laptop you choose can also greatly depend on your work environment, such as whether you work by yourself or manage a team of employees.
When you shop HP®, you can choose from a diverse range of energy-efficient and powerful small business laptop options.
Not sure what you need? No matter how big your office is, and whether you prefer mobility and portable design or processing power and heavy-duty graphics capabilities, we can help you figure out the best HP laptop for you and your business.
1. Topshelf graphics and performance from the HP Z Mobile Workstation
We know how important a solid foundation is for productivity and comfort when you're working on a complex project or new design tasks. That's why we've designed our HP Z Mobile Workstation line to help take some of the slack off bogged-down designers and professionals.
Built with your choice of 7th Generation Intel® Core™ or Intel® Xeon® processors, the HP Z Mobile Workstation line features many great options for collaborative and creative tasks, like powerful graphics and 4K touch displays. These specs alone may just make it the best laptop for home business.
If you want an HP Z loadout that's been optimized purely for all things visual in your field, consider the comfortable and efficient HP Z Studio line with its special edition graphics and display options.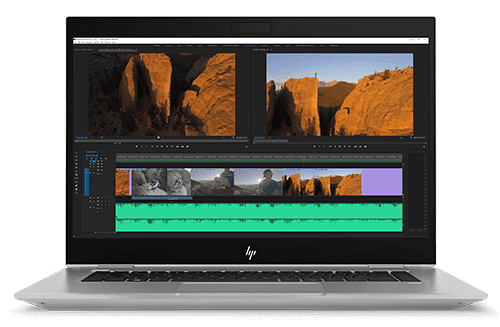 If your work keeps you on your feet around the office and you need a convertible option, try the stylus-equipped HP ZBook x2 with its detachable 14-inch diagonal display and optional touch screen. The starting configuration includes a 7th Generation Intel® Core™ i7 processor, so you aren't sacrificing processing power or hardware features.
2. Versatile and stylish computing with the HP EliteBook
Do you need a laptop that competes with desktops in the office and can transform into a strong hub when work takes you outside of the office for hours at a time? If so, we know you'll need long battery life and a frame built for endurance, much like what you can find in our versatile and stylish HP EliteBook laptops.
With processor options that range up to the latest 8th Generation Intel® Core™ processors and both dual and quad-core to choose from, an HP EliteBook is tailored to be among the best laptops for small business. These include the HP EliteBook 1040, which is among the most powerful ultra-thin notebooks available, or the smaller HP EliteBook Folio, which is the world's thinnest and lightest business-class notebook.
Many models from our varied HP business notebook lines come equipped with powerful battery life, but you'll be hard-pressed to beat our HP EliteBook for endurance. Designed to provide as much as 15 hours of battery life or more, you'll find that's more than enough to account for the average workday. You'll also have access to power-saving configurations and quick-charge features that can restore up to 50% of your battery life in only 30 minutes of downtime.
Boasting serious power and mobility, the HP EliteBook is a real contender when it comes to finding the best laptop for business use.
3. Want dependability and useful extras? Meet the HP Chromebook
Starting with the lightweight and affordable HP Chromebook 11 that weighs in at less than 3 lbs, HP Chromebooks offer accessible options for businesses that depend on the web, but still want professional-grade computing.
HP Chromebooks are built with a variety of options for boosted processing power and hardware specs, and they're also optimized for mobility. The battery life and compact dimensions make it easy to store and use in even the most constricted workspaces.
For particularly complex and rigorous routines, you can opt for the quad-core options in models like the HP Chromebook 14.
Designed around Google's advanced Linux-based Chrome OS™, the HP Chromebook is a streamlined and effective work computer with loads of productive apps. It also supports robust cloud-based computing, making it one of the top business laptops for professionals who travel frequently.
4. Extensive configurability options with the HP ProBook
As a small business owner, it's likely that you're also heavily involved with all the technology decisions for you and any of your employees. And with an HP ProBook, you can tailor just about every feature to your needs.
Need power? Pick from models with 8th Generation Intel® Core™ processors and then customize your hardware until you have exactly what's right for you. Or check out the flexible and secure HP ProBook 450, a well-built and accessible device with a generous 17.3-inch diagonal display and a topshelf media loadout including NVIDIA® GeForce® graphics cards.
If you favor mobility and the freedom to work in your preferred style, you can find convertible HP ProBook options that are still equipped with impressive Intel® Celeron® processors.
5. The affordable HP Mobile Thin Client range
For small offices that need easy manageability from their cloud-based computers, the HP Mobile Thin Client line is a highly reliable family of computers with heavy-duty security and built-in productivity features.
Built on the powerful Windows 10 IoT Enterprise, you can count on top-quality hardware and a straightforward interface environment with serious security for your data at all times. It even boasts added features for privacy and collaboration with an optional integrated privacy screen, extra exterior mic, and HP Noise Cancellation alongside standard premium audio by Bang & Olufsen.
With options for next-generation AMD Ryzen™ 3 PRO processor and powerful Radeon™ Vega graphics in the HP mt44 model, these computers may have a thin appearance, but they're definitely not light on performance or features. This combination definitely makes it one of the top-rated business laptops from HP®.