Best Desktop Computers for the Money
As convenient as laptops can be, desktop computers are optimal for gamers, creative professionals, and users who need a wide digital interface. Thankfully, desktop computers are still a thing.
In fact, they're better than ever and they're budget friendly. Let's explore the best-valued desktop computers on the market.
Difference between tower and all-in-one
Tower
Tower computer is the traditional desktop computer, with the "tower" referring to that big box that houses the computer's main components. You can hook up a variety of different computer monitors, keyboards, and mice to your setup, but the desktop tower is the mainstay.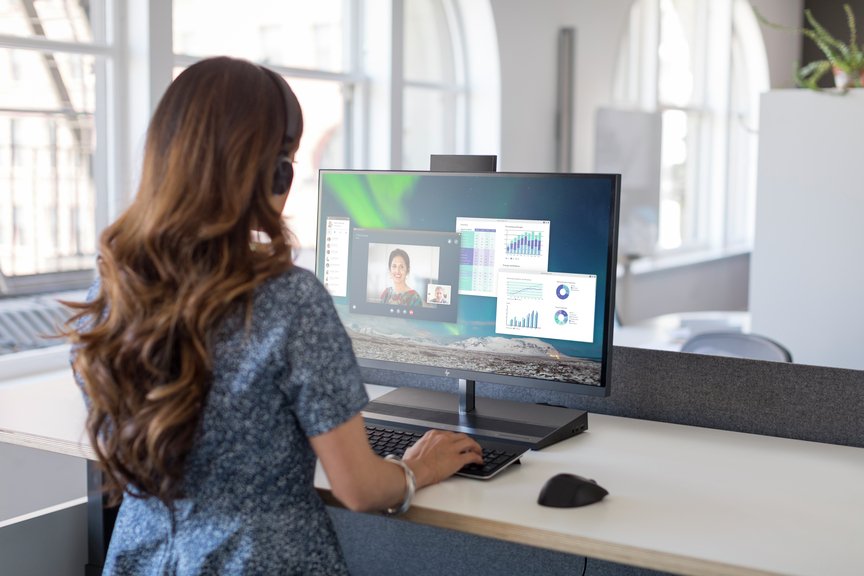 All-in-One
An all-in-one computer combines the tower and the monitor into a single unit. Typically, an AiO computer features a thicker monitor, with all components fixed behind the display. Some all-in-one computers place the components in the monitor mount.
Advantages of tower desktop
1. Powerful components
The tower is a relatively large instrument, and there's more than enough room to incorporate powerful hardware.
2. Great ventilation
There's a large amount of open space inside a tower. The airy interior makes tower computers less prone to overheating when processing intense data sets. They're also able to incorporate large fans or liquid cooling units for better heat management.
3. Customizable
The tower shell can easily be removed, providing ready access to all the interior components. Power PC users enjoy being able to customize the hardware. You can swap out graphics cards, add stronger fans, or rearrange the hardware to better suit your computing activities.
4. Upgradeable
As it's easy to open the shell and change the interior hardware, you can replace old processors and graphics cards with updated ones, expanding the longevity of your device.
This is an important for gamers who have keep up with the latest in video game technology and want to custom built a gaming rig to gain a competitive edge.
Advantages of an all-in-one computer
1. Compact
An all-in-one computer can fit it on a tight desk space and it won't take up much space. All-in-ones require only a single power cable plus mouse and keyboard cables. They boast ultra-sleek, modern designs that can add a high-tech flair to your home or office.
2. Portable
Let's say you want to take your work home for the weekend, or you want to take your computer to a friend's house for gaming night. If a desktop computer suits you best, but you need it to be at least a little mobile, then an all-in-one computer might be the better option.
3. Space-efficient
An AiO computer is optimal for tight spaces. If you have a small workspace or if you're sharing an office space with co-workers, you (and your officemates) may enjoy the compactness of an all-in-one desktop.
4. Touch screen capabilities
All-in-one computers can incorporate a touch screen within their construction. Touch screens are great for digital artists and notetakers who need an immersive interface.
Navigating with your fingers can be faster and more convenient than navigating with a mouse. At social events, a touch screen monitor is a fun tool and an easy way for folks to access games, music, and music videos.
Best desktop computers
1. HP Pavilion Gaming Desktop
The HP Pavilion Gaming desktop computer is fast and powerful thanks to its superior hardware, the 8th Generation Intel® Core™ i7 processor and the latest NVIDIA® GeForce® GTX graphics.
With up to 16GB of memory and 1TB of storage, you can perform a variety of tasks simultaneously, including intensive creative applications and gaming.
If you're a digital artist, you can render, shade, layer, and paint without slowing down. If you're a gamer, you can run, jump, and shoot your way through a detailed, explosive environment with no lag.
2. OMEN by HP Gaming Desktop
The OMEN desktop is part of the HP® line of famed OMEN gaming rigs. It looks as futuristic as those alien spaceships you'll be battling in across your digital landscape. This is one tough machine.
The OMEN desktop runs on an 8th Generation Intel Core i7 processor, the latest NVIDIA® GeForce® RTX graphics, and you can add up to 32GB of memory for extreme performance capability.
The computer can handle an immense amount of information, which you'll need if you play intensive games that draw heavily from your computer's subsystems.
Best all-in-one computers
1. HP Pavilion 27-inch All-in-One
The HP Pavilion 27-inch AiO desktop is a solid computer configuration. With some brilliant aesthetics: black trim, dotted soundbar, and thin trapezoid mount, it certainly makes the most of its all-in-one style.
An 8th Generation Intel Core processor runs the show, supported by 16GB of memory and 1TB storage. Even better, you can also get the 27-inch display with touch screen functionality.
2. HP 24-inch All-in-One
The HP 24-inch AiO desktop opts for a darker color palette and a hip, mid-century-style mount. For such a reasonably-priced device, it packs a punch.
The HP 24-inch AiO runs on an 8th Generation Intel Core processor, plus 8GB of memory up to 1TB of storage. This is an amazing deal for such a solid machine.
Add
Product

No product added to compare list