The OMEN by HP Obelisk Gaming Desktop
The OMEN by HP Obelisk gaming desktop features some significant changes to previous OMEN desktops with a more streamlined design and ergonomic improvements.
Read on to learn more about this awesome new gaming desktop by HP.
What is it?
The OMEN Obelisk desktop is an easy-to-customize and powerful new gaming computer with top-notch specs and high-end components.
This gaming desktop features an optional tempered glass panel with interior RGB lighting that you can customize to your favorite color scheme.
Every configuration is equipped with high-performance HyperX® memory, demonstrating HP®'s commitment to performance for the gaming community.
Engineered for gaming performance
1. Made for expansion
The OMEN Obelisk offers a wide variety of configurations and supports industry-standard upgrades for internal components, including the motherboard. The chassis adheres to Micro-ATX standards, so if you want to swap out parts or upgrade over time, you can choose from a variety of off-the-shelf Micro-ATX motherboards.
Two 3.5-inch drive bays sit at the front of the chassis, and they have mounting holes for 2.5-inch drives in case you want to use some 2.5-inch solid state drives (SSDs). There are two M.2 slots included, with one full-length slot supporting storage and one half-length slot dedicated for the included WLAN module.
There is even enough space for industry-standard ATX power supplies, so if you want to upgrade to a 750W power supply, the chassis can handle it.
2. Enjoy tool-free access to components
A few of the features of the OMEN Obelisk are built specifically for DIY gamers. For instance, you get tool-free access to the interior (and all the internal components) through a simple push-button latch at the back of the PC to open the side panel.
The 3.5-inch drive bays are also tool-free. Just squeeze the tabs on each side of the drives and pull. And to help reduce the frequency of maintenance, we offer an optional removable and easily-cleanable dust filter.
3. High-core count CPUs
On the CPU side, the OMEN Obelisk desktop supports the latest architectures from Intel® and AMD®. You can configure up to a 6-core 8th Generation Intel Core i+ CPU (i7-8700+) or up to an 8-core 2nd Generation AMD Ryzen™ CPU (Ryzen 7 2700).
If you're a gamer who is multi-tasking, live streaming, or doing desktop video editing, you'll especially appreciate these high-core CPUs, which can handle heavily multi-threaded applications and hyper-threading.
4. Ultra-fast memory and storage
The HP OMEN Obelisk offers up to 32GB HyperX® FURY DDR4-2666 memory as well as a variety of different storage configurations to help balance performance, capacity, and price point requirements.
In fact, you can configure up to three storage devices. There is space for one M.2 SSD (or Intel Optane™ module) and two 3.5-inch hard drives. As a result, available options include mixing PCIe® NVMe SSDs, a single hard drive, dual hard drives, or hard drives plus Intel Optane memory for storage acceleration.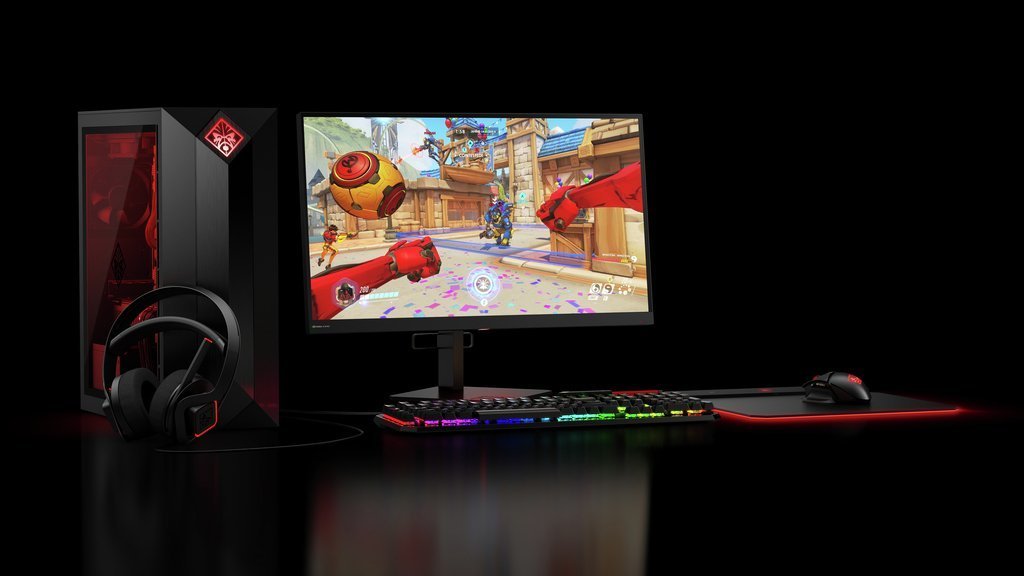 5. New levels of gaming realism
The HP OMEN Obelisk offers the latest graphics architectures from NVIDIA with options up to GeForce® RTX 2080.
So you can enjoy:
Cutting-edge graphics to tap into new levels of gaming realism, speed, power efficiency, and immersion
Real-time ray tracing technologies for trailblazing, hyper-realistic graphics
Impressive performance with 2944 CUDA cores and 8GB GDDR6 memory
Reduced image tearing during gaming thanks to NVIDIA G-SYNC™ compatibility
6. Chassis Ventilation
All the high-performing hardware of the HP OMEN Obelisk desktop needs appropriate heat dissipation. That's why it has extensive venting on the top, bottom, and sides of the chassis to help airflow and effectively manage heat.
You can see the triangular cut out pattern on both the top and bottom of the case, and the large vent on the side toward the front bezel. The power supply is also placed at the bottom of the case to help airflow and open options for future upgrades.
For gamers who like to experiment and want to upgrade the cooling solutions, there is an integrated mounting area for an additional aftermarket 120 mm fan or aftermarket 120 mm liquid-cooled radiator.
Software optimization with Omen Gaming Hub
Software optimizations can make a huge difference in your overall gaming experience, and Omen Gaming Hub software lets you get the most out of your devices.
Omen Gaming Hub is now a comprehensive software suite centered around performance optimization, PC and gaming accessory customization, and game-enhancing services.
1. Check your system's vitals
The dashboard dynamically displays the key metrics of your OMEN Obelisk desktop, including utilization and temperature of your GPU, CPU, and memory.
2. Boost your network
HP Network Booster lets you select which applications you want to have priority over network traffic. This way you can set your games to be at the front of the line. Dual Force functionality lets you split network traffic over two simultaneous connections.
3. Control performance and overclocking
You can control performance on select laptops to boost fan speed and provide a performance bump. In addition, Omen Gaming Hub has an intuitive interface to help simplify the process of overclocking on select desktops and laptops to improve CPU performance.
Designed for immersion
1. Choose your lighting
Desktop gaming computer visuals are incredibly important. The OMEN Obelisk provides chassis lighting controls so that you can customize up to two lighting zones on the chassis. Choose from among five different lighting modes.
The HP OMEN Obelisk gaming desktop has RGB lighting effects on the front logo for all configurations, so you're able to choose what color best suits you.
2. Clearly see your system
When configured with the optional tempered glass side panel, OMEN Obelisk gets additional RGB lighting on the interior. You can customize this independently of the front logo, to mix and match color schemes or animations.
The OMEN Obelisk also features clean cable routing to help airflow and provide a nice visual enhancement, showing off the hardware instead of a mess of wires. Color consistency of the wires and other internal components means that as you're adjusting your RGB lighting, you'll see consistent colors across the inside of the case.
3. Immersive in-game experiences
All OMEN PCs have DTS Headphone:X for simulated surround sound when using gaming headsets. This compelling feature is ideal for games where spatial sound is critical, such as first-person shooters to help locate where shots are coming from, or adventure games to hear when a character might be sneaking up from behind.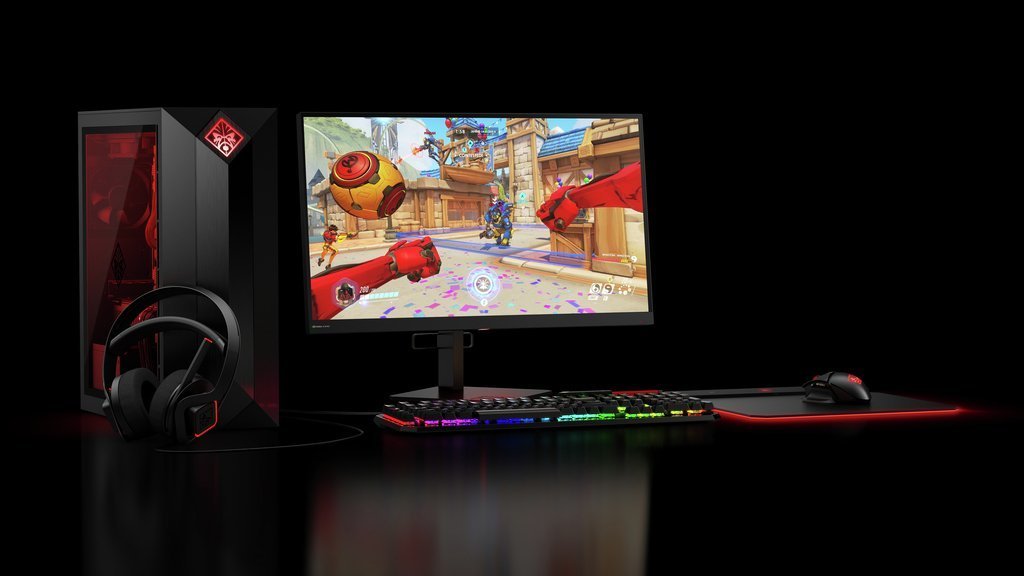 4. VR-ready gaming desktop
The HP OMEN Obelisk is a virtual reality (VR) ready desktop gaming computer. By combining advanced VR rendering, real-time ray tracing, and artificial intelligence (AI), NVIDIA GeForce RTX will take VR to a new level of realism.
Add
Product

No product added to compare list